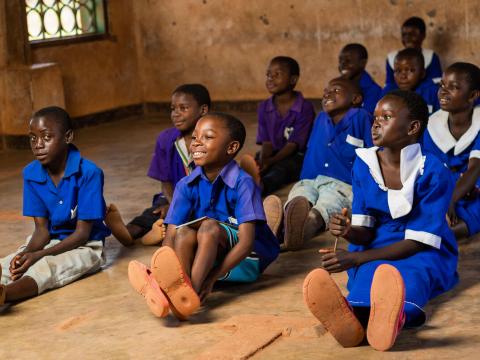 Literacy
What is the problem?
Across Malawi, most learners in early grades in primary school cannot read and write by the time they reach Standard 6 and above. Without basic literacy skills, these children are unable to learn, and this gives them little chance of succeeding in school and beyond.
What is World Vision doing?
Through the Malawi Literacy for Empowerment through Action Research and Networking (M-LEARN) Technical Programme, World Vision is improving the literacy rate, as well as knowledge of essential life skills, for boys and girls.
In order to achieve this ambitious goal, World Vision staff work with caregivers, primary school teachers, local education authorities and the central government to help make the teaching and learning process effective.
World Vision's work is focused on building the capacity of teachers in 278 primary schools, reaching out to 251,000 children.

In 2020, World Vision increased access to Early Childhood Development (ECD) in 903 communities; enabling 78,000 children to access ECD. 

A total of 1,234 reading camps are supporting reading skills of 61, 900 learners who access education after school hours.
What is the impact?
Even in the midst of COVID-19, World Vision reached out to help children stay on course with their education.
Since 1987, World Vision has constructed 414 classroom blocks, 104 ECD centres, 36 toilets and 160 teachers', houses and rehabilitated 35 classrooms.

During the COVID-19 pandemic, 87,219 children were reached with homeschooling support through the training of 7,451 guardians on homeschooling methods.

Distributed 32,044 text books and 2,150 solar radios that benefited 119,676 learners during the COVID-19 pandemic.

Improved the reading skills of learners in early grades from 8% to 13% for those who can read with comprehension.

Since 2015, World Vision has trained 2,150 caregivers to support 78,000 ECD learners in 903 ECD centres

Since 2015, World Vision has established 1,234 reading camps to reach out to 61,900 learners in early grades (Standard 1-4).
Related resources
Surviving a pandemic: How are children in Malawi coping under the new normal? | Watch video
COVID-19 Response: The case of Malawi | Watch Video