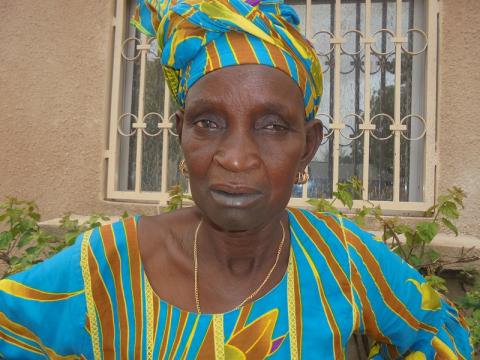 The meeting with World Vision, an opportunity
Thursday, April 26, 2018
"To come together is a beginning, to stay together is progress, to work together is success."  Satou Mbengue got it immediately when she met a team from the Kathiotte ADP in 2002. World Vision was in need of partners who would be trustworthy and principled men and women, ready to go the extra mile for the good of the collective. Since launching their working relationship back then, Satou has proven to be the epitome of the indefatigable community activist. Alongside other leaders, she realised that in adopting World Vision, locally-inspired development could flourish in this region of Senegal where more than 70% of the population is illiterate. 
To afford her daughter Diama's schooling and to support her husband, she began trading peanut butter, which was not even profitable in her neigbourhood. To get out of this situation she needed to widen her horizons to new markets, so she set her sights on the town of Kaffrine – despite the 12km distance from her native village of Ndioudiene. Every day she would carry two 10kg buckets full of peanut butter there, on her head. Her campaign to win over Kaffrine was conducted on foot, delivering orders to the customers.  Her business began to take off because the quality was so noticeable. She rapidly made a name for herself and launched her own brand 'Déggé Satou' - Satou's Peanut Butter. It was through this business that she came to know the World Vision agents.  She retells how it was a certain Adama Ndao then the ADP Manager in Kathiotte who once suggested to her that she set up a group to represent women traders. It was an unmissable opportunity. She managed to draft around 100 women on the day of the meeting, quite surpassing the number of 30 which was the upper limit. She was unanimously elected the president of the group.
"As part of my business process, I wanted to gain an overview of my progress as a peanut butter merchant. To take stock of my strengths and weaknesses and perfect my business model so I could more effectively identify new development partners for when World Vision moves on," commented Satou.
The transformation of my life, my family and my group
Satou Mbengue (left) with his group.
"Thanks to the training sessions, my life has taken a new turn. What I have been wishing to achieve for several years - to be recognised and acknowledged in my role as a leader of women - has come true at last, because I have learned to have confidence in myself and I have succeeded in pushing back my limits. The way I make myself available, listen, reflect and give advice is something that I have always adapted to my situation. I don't read and write so I have always taken care to use simple language and lots of explanations so that everyone can understand. This has been a very useful and pleasant experience because I have been able to develop my leadership skills in the group at the same time," she added.
The encounter with World Vision has enabled me to ask some searching questions about my wishes and values and even to understand better how to get things done as a group. This is how it came about that in 2008 I was chosen from more than 200 groups to be their leader and represent the two regions of Kaolack and Fatick at the National Congress of Women Leaders in Senegal. And since that day I have remained a champion of the interests of rural women. I have received several awards from the authorities of this country and I owe it World Vision for reigniting in me this flame of leadership that was lying dormant. »
"The meeting with World Vision has completely changed my life, the life of my family and my community," says Satou.
Local products from the work of the Satou group