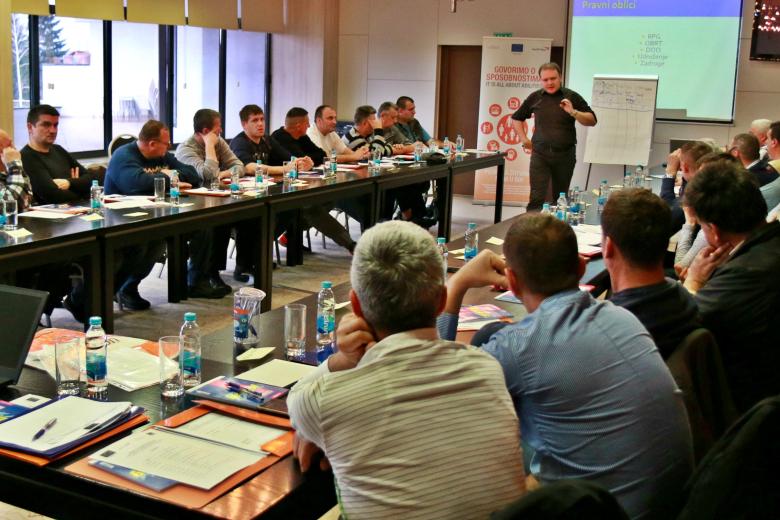 Mine Survivors Improve Entrepreneurial Skills
Wednesday, April 4, 2018
25 adult men and one woman are attending a training session on starting-up their own business. Start-up business courses are very sought after in Bosnia and Herzegovina nowadays. With an unemployment rate at 25%, resource mobilization to start one's own business seems a good strategy to create income and to support a family.
This is especially important for this group – an audience of amputees, all people who were hurt in what is officially described as a "mine incident". The course hosts today half of the beneficiaries being assisted by the project "Integrated socio-economic support to landmine victims in BiH", implemented by World Vision in partnership with Organization of amputees UDAS. The project is funded by the European Union, and co-funded by World Vision Austria and partner municipalities.  It's an attempt to improve the living conditions of mine victims people and their families. In addition to the training, they'll be provided with agricultural and artisanal tools, or livestock to start their own enterprise, each according to his or her talents, abilities, and preferences. Implementation of this project will additionally benefit 170 family members, including 61 children.
That these men and women all suffered the trauma of war is terribly clear, and it's clear, too, that these 'incidents' marked these people for life. Their injuries aren't something they can forget.
"I was hurt on April 23, 1993 at 8:05," remembers Omer Selimovic, recalling the exact time. "The consequences of losing a body part last for a life time. You may recover physically, but you will live with a psychological trauma your entire life," he adds.
This training session is part of a 2 days course aiming to introduce the participants in the basics of effective business planning. The course touches upon subjects like market research, pricing, creating a business plan, and finally, selling a product. An atmosphere of comradeship develops in the room where the lecture is held. Creating a price and a sales pitch for a kilogram of burek, a favorite national meal consisting of a pie filled with minced meat, was a source of many laughs as a discussion turned into 'what is the ideal meat portion for the perfect pie'. It did not take long to come to a consensus: 300 grams of meat for one kilo of pie.
"We spent time together and exchanged opinions today", Omer shares after the workshop. "Having someone who understands you and with whom you can joke and laugh together is very important."
 A father of five, Omer was a car mechanic before the war. Losing one of his legs and becoming less fit to perform a physically demanding profession forced Omer into college, where he graduated with a B.A. in Economics. He worked for the local municipality for a year, but then opted for retirement, as it gave him some sense of security and life-long access to healthcare. Today he and his family live on this meagre income, which is one third of an average salary for one person in BiH. They make ends meet with what they earn from their land. Automated farming tools will help Omer and his family improve their living conditions.
"But you cannot support livelihood improvement without considering, the other side of the coin which is the society – therefore communication becomes paramount. It is very important to feel that the society accepts you," concludes Omer.
Miodrag, a father of three, is also here. He works at a farm, raising and selling cattle and groceries. He inherited the land and a green thumb from his father. "I was young when I lost my leg. I had no work experience at the time, and post war, when all the factories and business started closing, the farm was what I was left with," he says. According to his business plan, he already owns a greenhouse and the expansion of another 300 square meter will increase his profit perspectives, turning his venture into a real business.
"If this was a mere welfare related project, I would not participate; I am not looking for charity. I want to earn an income with my own hands and support my family independently," Miodrag says proudly.
Acceptance of persons with disabilities is a long-standing issue in BiH. Adults and children with disabilities are one of the most vulnerable groups, and economic and social exclusion is still common. Mine victims face problems of both kinds, as BiH lacks the infrastructure to support the economic independence of disabled people and the social attitudes to accept and take advantage of those people's abilities.
Miodrag is fiercely opposed to this discrimination. "I had a million problems when it comes to the way society treats me," he says. "This is why I am doing this; this is why I am working even harder than others, to be one among equals. I want to be the one to provide for my children and I never want them to think that they lack something because I am disabled. I want to be acknowledged as capable and as useful as anyone else!"
Fortunately, their families have been supportive of both protagonists in this story. And as hard as Omer and Miodrag work to provide for their families, their wives and children manage to return it in kind. Family support and the support of their friends, often people who have suffered similar injuries is what matters the most of them.
Fact is that the nationalism infused local politics and thus takes its toll from all groups of society. The sad reality is that mine victims are often gathered around ethnically biased associations with mostly former combatants in the 92-95 war as members. In our case beneficiaries of the European Union funded project come from eleven, ethnically diverse, mine affected municipalities in BiH - Lukavac, Konjic, Travnik, Donji Vakuf, Bihac, Bosanska Krupa, Velika Kladusa, Doboj, Stanari, Zvornik and Cajnice.
"No one asked us whether we wanted the war. I was recruited and it was my legal obligaton at the time. The past is now behind me. This is the first time I am participating in an inter-ethnic gathering of amputees. And it looks evident to me that we are all the same and we have the same goal, to improve our lives and live in peace", concludes Miodrag.