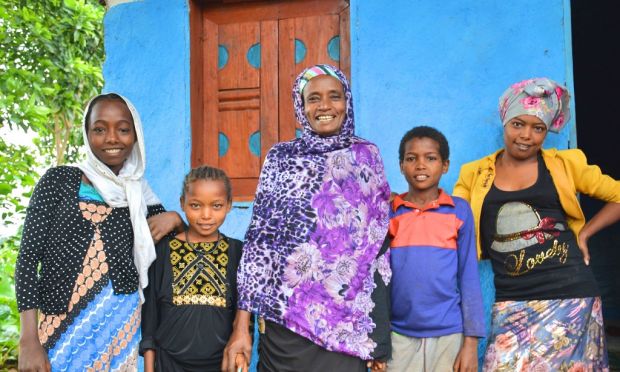 Ebu Shemsu, 40, a mother of six children lives in Sokoru district of Oromia region. Ebu and her husband, as a farmer used to produce cereals and other crops. Unfortunately, Ebu lost her husband to death in 2011. "My husband was a hard-working farmer. I felt like the sky fall on me when he died."
Life becomes very tough after she lost her husband. "My husband left me with my six children. So I have to struggle to feed my children and survive. As I cannot plow the land alone, I started to glean cereals on people's farm and feed my children. As a result we eat when we get, otherwise, we go to bed empty stomach."
As Ebu and her children were living this way, World Vision invited her to a meeting. The meeting was facilitated by World Vision and the local administration to support and train vulnerable women and children. "Fortunately I become one of the selected women. We took various kinds of training on saving and nutrition"
World Vision Ethiopia implements saving group model by forming interested community groups to mobilize local savings from members and to make it available for credit services for their own members with the aim of enhancing self-initiated economic opportunities to increase household income.
In the beginning, Ebu and her neighbors did not put much trust in the saving program. "At first we were skeptical about the saving program thinking that it could not change our situation, So, I bought two shares with 4 birr. After one week I bought five shares with 10 birr."
After some rounds of saving, life turned to Ebu's family. "On the first round of sharing I bought a sheep and she gave birth to two sheep. On the second round of sharing, I bought ox and seeds and plow the land and produce some cash crops and vegetables. My income has now increased. I have three ox, sheep and chickens. Thanks to World Vision I and my children are saved from living on the straight."
Now the nutrition variety intake of Ebu's family has also improved. "We used to take to the market everything we get from our garden; it can be chicken, eggs, vegetable or fruits, now thanks to World Vision I understood the value of eating a variety of food for my children and myself. We now eat varieties of food from poultry products, fruits, cereals and vegetables."
In addition to that Ebu is now able to send her children to school paying their school expenses, buying clothes and feeding them well. "My husband would be very happy if he can see us now," gratefully says Ebu.
Saliya, 14, a grade 9 student is one of the children of Ebu. "I and my siblings used to go to school eating bread and cabbage. Sometimes the bread is very dry to eat and we used to go to school without eating. It had an effect on my school performance. I could not properly listen to the teacher as I felt hungry. Now our family diet has changed, we eat varieties of food, fruits, and vegetables."
Saliya is sponsored child of World Vision. "Before World Vision support I had a lack of school materials. Sometimes I may not have a pen and I pass the day without writing a single note on my exercise book. Then I could not study at home what I have learned. Now I get exercise books, pen, and pencil from World Vision. My school performance has improved. This year I stand second from our class," happily says Saliya.
Saliya also becomes a member of the saving Association and has deposited some money to cover her clothing when a school opened.