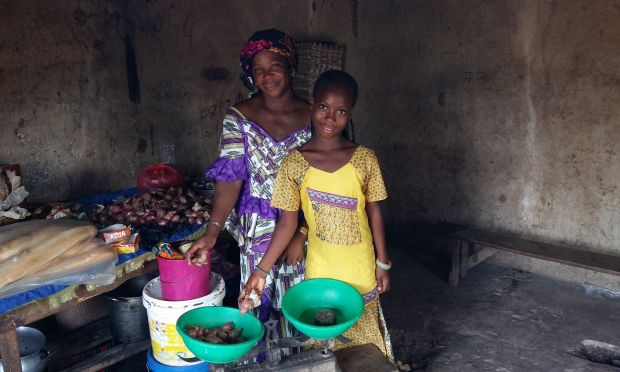 Welcome to Sinthiang Cherif, a village located in the Kolda region of south-central Senegal. On the left as you enter the village, near a truck stop, a modest building of about 20 square metres will catch your eye. It's Dieynabou Diallo's diner. Given the size of the village, you might ask yourself how the community can support a restaurant. But a quick look inside shows us that many road-users know it well and enjoy the food.
A smiling woman comes to greet us as we enter, It's Dieynabou herself and she's clearly happy to see us.On this occasion it is not the smell of the cooking or the delicacies on the table that have brought us here, but also to learn about the Village Savings and Loans Group (VSLG) in the community, which was started by World Vision Senegal.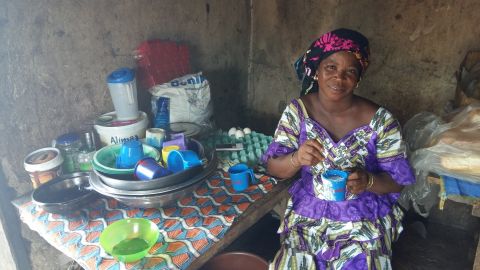 Dieynabou Diallo making a latte
As a mother of seven, Dieynabou quickly saw tthe opportunities in a rapidly expanding village for serving food and selling sundries. "I've been involved in small business for a long time, more than 15 years, but my means are very limited and I haven't been able to branch out into catering," she said. "I needed some investment for that but the terms and conditions of the microfinance companies were out of my range. The arrival of the VSLGs has changed everything, especially for us women."
For the last number of years, in Senegal and other parts of Africa, World Vision has been settling up Village Savings and Loans Groups (VSLG). Each group is a syndicate of 15 - 25 people who save together and borrow small amountsfrom these savings. The VSLG runs on ayearly cycle, at the end of which the savings accumulated and the profits raised from loans are distributed between the members in proportion to their investment in the scheme.
During the last cycle at Sinthiang Cherif, the women shared out a total 1,395,800 CFA Francs (about U.S. $25,000) among members of the group. For Dieynabou, this meant not only being able to invest in her small store and restaurant, but also allowed her to buy two sheep and rear them. In addition, access to VSLG credit made it possible for her to buy more wares for her store to develop a side line in condiments and acquire more utensils for the restaurant.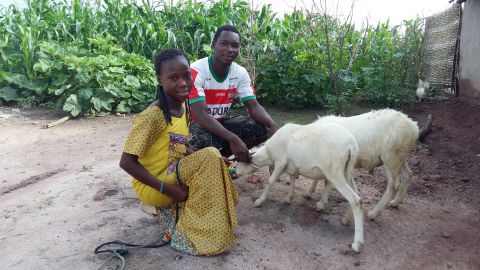 Two of Dieynabou's children Souleymane and Aïssatou, minding the sheep
Since the introduction of savings groups to the Sinthiang Koundara area in 2015, Dieynabou has also taken part in a series of training sessions held in her village. There are now 75 savings groups in the area, including two designed specifically for children. Almost 1,800 people take part in the groups and the overwhelming majority of them are women. Each group raises an average minimum of 1.5 - 2 million CFA Francs each cycle. Now, she has increased her investment in the group, and therefore has access to more credit.
The development of income - generating activities and access to finance have not always been easy in Senegal, especially in remote areas of the country. The microfinance companies' interest rates are discouraging to many potential customers, who are then further excluded if they cannot muster the required guarantee or deposit. Most of the communities where VSLGs operate are fully intent on remedying this state of affairs.
Indeed, by providing a completely secure way for their members to join forces, economically speaking, VSLGs can help disadvantaged people to accumulate productive resources more efficiently, paving the way for income generation. Collective saving also assists in promoting solidarity between members and provides an alternative safety net to the exploitative loans of financial or micro-financial organisations.
Dieynabou's son Souleymane feels a sense of pride in his mother. "My mum helps us a lot with our schooling, my brothers and me. Besides the school equipment, she gives me money for my daily needs." Her involvement in the education of her children has no doubt motivated their excellent school results. Souleymane is top of his class and his brothers are in exam class. His sister is also one of the best students in her class.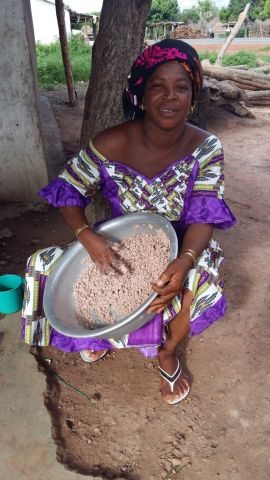 Dieynabou making moni from sorghum to give out to the children of the village
Listening to Dieynabou, the VLSG has clearly brought profound changes to her life. "I manage to meet my own needs as well as my kids', and then I've been able to improve the family diet because for me, everything I do is for my family, especially my kids," she said.
The existence of model projects, such as these savings groups, definitely contributes to the transformational development of communities in which World Vision is involved. The involvement and determination shown by communities also extends the sustainability of initiatives to increase the well-being of children. Just like Dieynabou Diallo, the women of Sinthiang Cherif are in no doubt about the how the savings groups can drive development.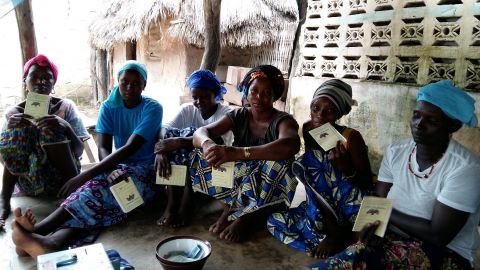 Dieynabou's savings group meeting
By Allousseynou Sambakhe, Velingara/Kounkane Cluster Communication Focal Point
Credits Photos: Allousseynou Sambakhe