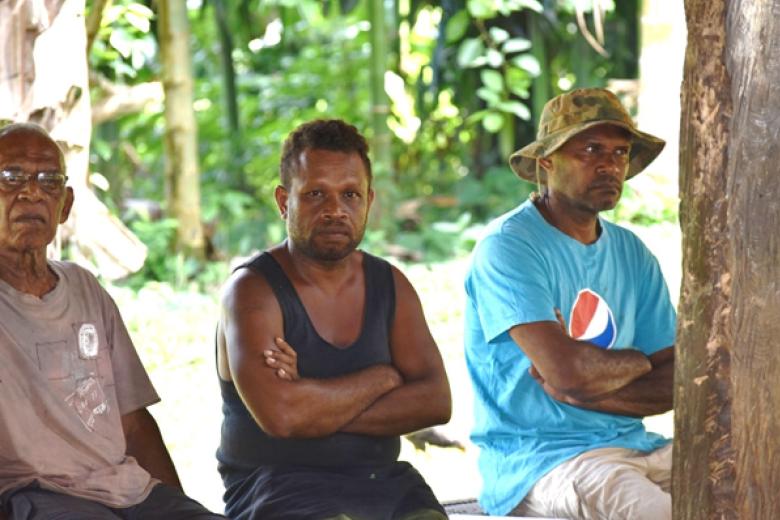 Sam Fanoasui's journey through Channels of Hope
Thursday, March 29, 2018
March 26th, 2018, Honiara - "My interest grew when I joined World Vision's Community Channels of Hope program as Chairman of our community action team in June 2016. Prior to joining that, I had no idea and background knowledge of how to assist my community members to be good advocates against gender-based violence. It was only after going through sessions on gender-based violence and close collaboration with World Vision's Community Vision for Change (CV4C) that I began to realise the ambition to become an agent of change, combating gender-based violence in my community and the surrounding communities."
Gwaibaleo Community Hope Action Team (CHAT) Chairperson, Sam Fanoasui, commented when a team comprising of World Vision staff and staff from the Australian High Commission office in Honiara visited his community this month. Gwaibaleo community is located in West Kwara'ae, Malaita Province.
Married with four children, Sam attended a training on gender-based violence conducted by World Vision under its Gender program back in 2016. That led to his appointment as Chair of the CHAT group in his community. 
An active chairperson since, Sam and his committee members are awaiting official approval of their community profile including a by-law that will soon be registered under the Charitable Act of Solomon Islands to become legitimate. According to Sam, the by-law aims to make Gwaibaleo a harmonious and peaceful community where men, women, youth and children can live happily together.
As a chairperson, Sam is responsible for setting up village committees, work plans and channels of hope action teams to work closely with World Vision on a quarterly basis to address issues relating to gender-based violence in his community. 
His committee would often stage informative sessions by way of drama, arrange for community policing talks, health awareness talks, setting up community savings groups under World Vision's integrated Community Economic Development program and other economic activities. 
Asked about changes after World Vision Solomon Islands conducted a training on gender-based violence in his community, Sam said the community now has a Channels of Hope Action Team (CHAT) comprising of 10 members (5 male and 5 female), and they are working closely with the Police and community chiefs in formulating a community by-law that is now awaiting official recognition.
He further commented that community members can now save money by joining savings groups to meet their children's education and other contingencies. Thanks to World Vision's integrated programming which included economic activities like training on organic farming in the community.
"Nowadays, our women's voices can be heard at all levels, whether it be in terms of decision-making, community discussions or even at the family level where decision-making was once male-dominated. I can say with confidence that our community is a strong promoter of gender equality as members begin to appreciate and realise their values in society," said the Gwaibaleo CHAT Chairperson.
On challenges faced as a CHAT Chairperson, Mr Sam said savings has not been easy for the past year as members may experience low crop yields at times. He added that the role of being a CHAT Chairperson has not been easy as people in the community also have other commitments apart from attending meetings or gathering for a visiting team from donors and supporters or World Vision.
Despite these challenges and sustainability of the project, Sam is optimistic that his community's future is bright. He said their focus now is to further strengthen their CHAT group by conducting more training sessions in nearby communities, engage more children, youth, church leaders and chiefs in informative sessions on gender-based violence. 
Regarding advice on his role as CHAT Chairperson, Mr Sam said it takes commitment, assertiveness, creativity and respect to become a leader in one's community.
"My advice is being a CHAT Chairperson, you will have to be committed, believe in yourself that you can do it, be creative in whatever you do and respect everyone in the community," he said.
He appeals to the National Government through their Member of Parliament for West Kwara'ae to recognise such initiatives by supporting future informative sessions in nearby communities as gender-based violence can be eliminated by having a well-informed community, population and a well-informed society.
World Vision's Community Vision for Change (CV4C) is supported by the Australian Government through the Australian NGO Cooperation Program (ANCP).