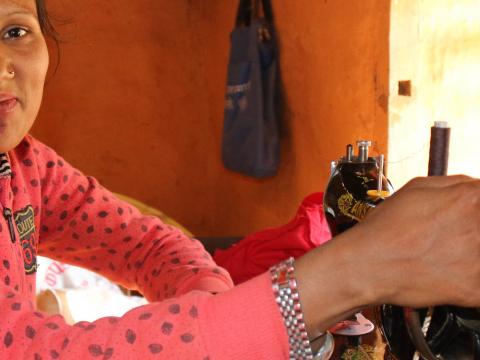 Sewing a better life
Sunday, January 7, 2018
"My son's heart is weak," says Kusum. "He is living with a life-threatening valve disease. It's too much for me to bear."
Kusum is a 29-year-old woman from earthquake-affected Gorkha District, 140 kilometres west of Kathmandu. Her husband left her few years ago forcing her to return to her maternal home with her son, Kushal who is seven years old at present.
"Although I am living at my maternal home with my parents and brother I am unable to afford treatment for my son's disease," says Kusum with a heavy heart. "The doctors in the capital city, Kathmandu said that his treatment is not possible in Nepal and he has to be taken to neighbouring India but I simply don't have the money. My parents are poor farmers and my brother is also unemployed."
In an effort to support vulnerable community members gain appropriate skills and knowledge which enables them to establish sustainable income generation activities Good Neighbours Nepal provided tailoring training to selected community members in Gorkha District with support from World Vision and Global Affairs Canada. The training also increases the community members' chances of engaging in formal employment.
Kusum attended the tailoring training with 29 other women from the district. "It was a comprehensive 50-day tailoring training and I learned many things like sewing blouse, trouser, kurtha, chaubandi, night dress, petticoat, half-pant, etc.," says Kusum. "Initially, I did not know what would happen during the training but after it was over I felt confident enough to do something on my own. So, I have started a small tailoring centre at my maternal home. The sewing machine provided by the training organisers has been of great help. I would not have been able to afford the sewing machine on my own."
"Now, I have gradually started earning. Although the income amount is very little at the moment but it is a good start nonetheless. At the moment, I get two-three orders every once in a while from the community people and I am currently busy sewing clothes for them," she says.
Kusum's father, Durga Bahadur says, "I am happy that my daughter is gradually becoming independent. I hope her tailoring centre becomes much more successful in future. This is a wonderful opportunity and I would like to sincerely thank the training organisers for enrolling Kusum in the training."
Thanks to the vocational training initiative, she is paving the way to entrepreneurship for other women in her community.
Kusum says, "I hope to save some money and take my son to India for his treatment. He deserves a better life. He deserves a healthier life."