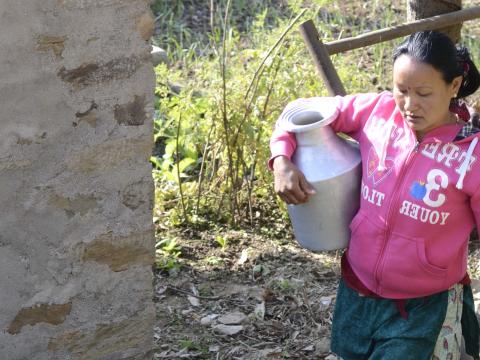 A tap for each house
Wednesday, March 21, 2018
Safe and affordable water is everyone's right.
People in rural communities of Nuwakot District were deprived from this right like 1.1 million people around Nepal after the 2015 earthquake disturbed or cut their water sources off (UNICEF).
The village's water source ruptured and relocated around 100 metres below, breaking the existing water supply. As a result, they had to resort to making long trips to collect water.
In traditional communities of Nuwakot District women like Binda Bhandari are usually responsible for most household chores such as fetching water.
"My husband works outside in another district so I am alone at home to look after my children. I used to leave my children behind while going to fetch water as they were very young at the time. Sometimes my neighbours would offer to look after them, but other times it was just them, on their own," shares the 30-year-old mother of two.
To lessen the hardship, the villagers decided to draw water from small available pools often containing muddy and contaminated water and connect to the village through small pipes. Water generating from one spout would be shared by around five households - restricting the use of water for only basic purposes. "Those were challenging times," recalls Binda. "Children often get sick when the water supply is limited."
In 2017, a water supply system was built in the village with support from World Vision Germany. With technical support, the villagers worked on constructing a tank at the source, a reservoir and laying down galvanised iron pipes all the way down to the village. Members from 68 households in the village worked for at least 15 days and they also received wages for a certain time.
In addition, each household also received filters, a 300-litre tank, spigots and water meters to monitor water consumption. "After receiving spigots, each one of us was responsible to construct our own taps. Having a tap in each house has been a boon for us. Now, I am easily able to get drinking water and irrigate my vegetable farm and feed my sons fresh vegetables; it is good for their well-being," says Binda.
Binda's sons, four and eight each, have access to clean drinking water now, just like the children in all the 68 households of the village.
"After the construction began," recalls Om Rijal, "there was not a single day I would not be on site inspecting and supervising the work. I am happy the work went on regularly and we were able to complete it quite soon; the major work was completed within two months." Om is the president of the water user committee and is confident that if used properly the water will be sufficient even for 400 households.
The villagers report that life has become much easier after access to clean drinking water was managed. Women now work at the comfort of their home compounds and reconstruction of houses has become much more convenient. Not just that, the water is diverted for irrigating farms in the evenings.
With World Vision's support, 13 water supply systems have been rehabilitated/constructed and handed over to the communities in Nuwakot District.
Watch this video to know more about this intervention.