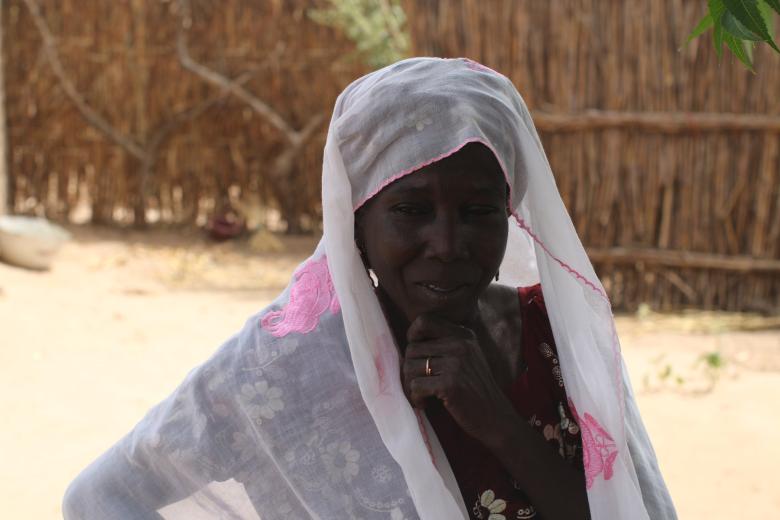 Ten years later, from 'no water' to 'water'
Thursday, October 26, 2017
Written by Mouslim Sidi Mohamed
As a mother, Haoua Sani, has experienced many emotional moments. She narrates her story with a lot of emotion. "I remember past times when I was without solutions, a constant feeling of helplessness because of the health status of my children." she said.
Haoua, 47, is part of the community of Garin Falki located in the region of Maradi, south-central Niger. Like the local populations, her family makes a living from farming and livestock. As a mother of nine, she is very concerned about the well-being of her children.
Ten years ago, Haoua did not have access to drinking water and children in her community suffered from Diarrhea and vomiting daily. "It seems like I spent most of my days at the health center because of my children's illness. What was even more demoralising was that I did not know what was causing the sickness", Haoua recalls. The health was seven kilometers away from Haoua's village. "I had to walk, almost every day for a long distance to seek care for my children", she said. And sometimes, Haoua had to face an endless wait.
Haoua's daughter, Habiba, 13, was born before World Vision Niger started its intervention in Garin Falki. As a young girl, Habiba was often sick.  "I remember one of her vomiting episodes -Habiba almost died. She vomited all day long. My only option was some aspirin. Instead of getting better she began to vomit blood. I honestly feared for Habiba's life that day", Haoua said.
With the support of World Vision Niger, Haoua, has gained hope to overcome the challenge of her children's health issues. "The most important thing for me is to ensure the future of my children, for without good health, there would be no future", she emphasised. 
For many years, World Vision Niger has been working in Garin Falki to help improve the well-being of children and families. Various health-related activities, such as providing potable water, promoting sanitation and encouraging better hygiene practices have been carried out. Several trainings have been deployed to the member of the community to facilitate the process of behavior change.
During fiscal year 2017, the community benefited from two boreholes. The first was drilled at the village school "Ecole primaire de Garin Falke " and the second one within the village. In addition, an old borehole located in the village was rehabilitated, which is now functional and a great benefit to the community. To ensure sustainability of the borehole, World Vision ensures various training sessions for the village WASH committee. This committee is in charge of the efficient management of the borehole. Additionally, the WASH program identified other key actors in the community such as borehole repair and maintenance workers who benefited from capacity building and are therefore equipped to carry out maintenance services needed to keep the boreholes functioning. 
 "Since the construction of the boreholes, our lives have changed. I don't have to wake up at 5 am to walk a long distance and fetch water on my head. As for the children, they now like going to school because they have enough water to bathe in before going." Haoua said.
With water available, Haoua began to make soap. "Access to water has allowed me to start a profitable business. I am now proud to say that I am a soap maker and have been doing this for the past five years. With the profits, I extended my business to selling other commodities which I buy from the big market. Depending on the sales, I am able to make up to 30 000 FCFA (US 50) per month.  I am really thankful to World Vision Niger for giving me this opportunity", She said.
Since 2005, community members in Garin Falki have been making a conscious choice to wash their hands and use latrines every day. In July 2017, they have been pronounced as a certified Open Defecation Free (ODF) village.
Unlike many children at the time, Habiba survived to enjoy the clean water and the improved life that the interventions have made possible.
Photo credit : Mouslim Sidi Mohamed