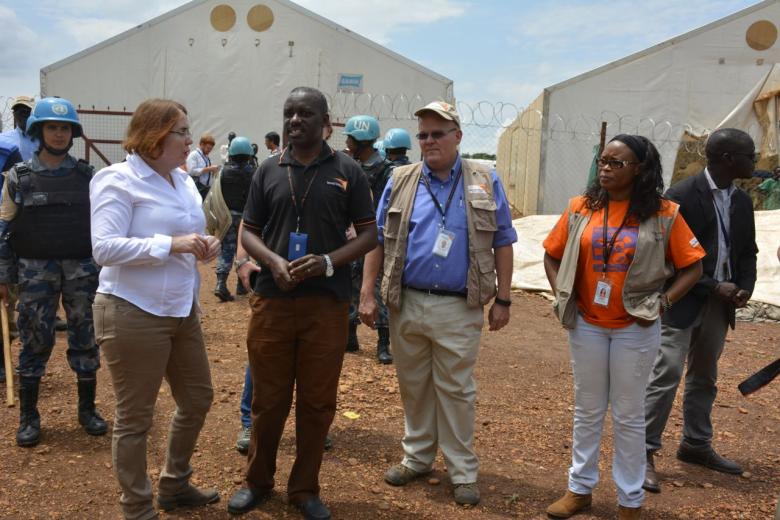 US Ambassador to South Sudan pledges continued support to the country
Thursday, July 28, 2016
Juba 27 July- The United States Ambassador to South Sudan, Mary Catherine Phee, yesterday paid a visit to World Vision's food distribution centre at the Protection of Civilian (PoC) site in Juba where she spent time with some of the beneficiaries.
Ambassador Phee reaffirmed the United States' continued support to the people of South Sudan. 
"I am here to see the situation and to learn of the needs so that we can assess how to meet some of those needs," she said.
Ambassador Phee commended the people at the PoC for their generosity in sharing their food with other displaced persons at the POC who are yet to be registered and so cannot receive food through the formal distribution system.
The Ambassador was accompanied by Emily Dakin, Senior Humanitarian Advisor for USAID's Office of U.S. Foreign Disaster Assistance (OFDA) and was welcomed to the distribution centre by World Vision's National Director, Perry Mansfield.
World Vision has partnered with the World Food Programme to give food assistance to internally displaced persons at the PoC and other parts of the country and the United State of America is one of the large donors.
During the recent violence that rocked Juba, World Vision scaled up its operations to provide emergency support to those affected by the conflict while continuing to deliver services to other parts of the country.