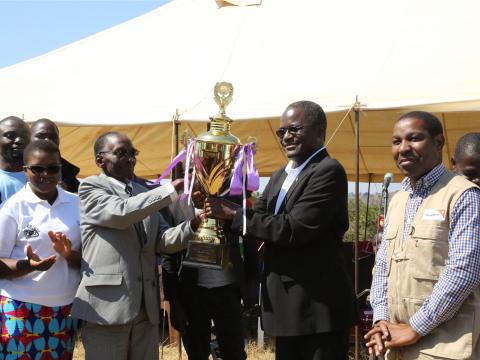 World Vision Helps Ntchisi attain ODF
Thursday, June 21, 2018
Ntchisi district has attained an Open Defecation Free (ODF) status, a development the district's health office describes as a milestone in as far as the battle against Water, Sanitation and Hygiene (WASH) related diseases is concerned.
The district has attained the status following the certification of Traditional Authority Kalumo as ODF, the only one among the district's seven TAs which had not yet achieved the status. 
Ntchisi District Health Office Public Relations Officer, Samson Mfuyeni told Malawi News Agency (MANA) in an interview that they believe this will go a long way in improving the health of people in the district.
"The District Health Office feels that awareness and commitment by the whole population of Ntchisi to have improved sanitation and good hygiene practices has been met," said Mfuyeni adding it will also help drive forward the  campaign to have all the people in the district  follow good hygiene practices.
He said there were a number of interventions that the district health office together with other partners have put in place to achieve the status such as community led total sanitation which involves working hand in hand with the communities to ensure that they are following good hygiene practices.
According to Mfuyeni, the office has lined up a number of activities to ensure that the district maintains the status.
"We have intensified routine health education in communities by all community health structures and all health personnel, community awareness campaigns on WASH are also continuing which are mostly supported by partners," he said.
World Vision Malawi district manager for the district, Harold Munthali whose organisation played a big role towards the attainment of the status said they are also working in improvement of access to potable water for people in the district.
"Apart from ODF attainment, World Vision is investing in improving access to potable water in TA Kalumo. Last year we drilled 16 boreholes. This year, we are drilling 29 boreholes and have given solar powered running water to Ntchisi District Hospital,
In our pursuit for children to enjoy life in all its fullness, as World Vision Ntchisi, we set ourselves targets in partnership with the local council to ensure that all Traditional Authorities attain ODF status," said Munthali.
Of the seven TAs, World Vision has directly supported attainment of ODF in five TAs namely  Kasakula, Nthondo, Vuso Jere, Chikho and Kalumo, according to Munthali.
Ntchisi has now joined three other districts, Nkhotakota, Dowa and Balaka. World Vision supported all but one.