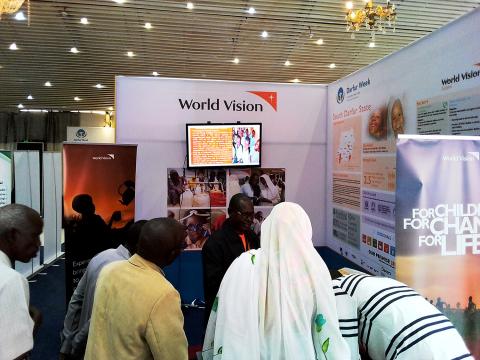 World Vision joins other Development Partners in Sudan to celebrate Darfur achievements
Thursday, February 8, 2018
February 1, 2018. Khartoum-World Vision joined over 30 development partners working in Sudan's Darfur region to celebrate key achievements particularly in the areas of peace building through exhibitions and open discussions.
The event, dubbed 'Darfur Week', was organised by the Japanese International Corporation Agency (JICA) and aimed at expanding the network of development partners to improve cooperation and collaboration in Darfur's development as the aid agencies joined forces to increase the public's awareness about the Darfur region, peace building efforts ongoing in the region through the exhibits.
Darfur Week attracted participation from humanitarian organisations that included various United Nations agencies, international Non-Government Organisations (INGOs) as well as local groups.
Asinal Osman Ahmed, a local NGO official from Central Darfur state, says she enjoyed meeting with World Vision staff as they explained the organisation's activities. She admired the posters, the photos and the video presentations of World Vision achievements in South Darfur.

"I have a little background about the humanitarian contribution made by World Vision in South Darfur but this exhibition gives me a great opportunity to get even more acquainted with World Vision's work," Asinal pointed out.
Asinal expressed her desire for World Vision to expand the scope of its operations to Central Darfur state as well.
Other notable participants included university students who flocked the World Vision display booth to witness some of the interventions carried out in the Darfur region.
The exhibition also included a discussion corner where World Vision staff in charge of livelihoods projects funded by the European Commission in Blue Nile (south east of Sudan), explained World Vision's interventions in food security and livelihoods. The project is supporting more than 3,000 farmers equipping them with technology and skills to improve their agriculture practice in order boost their food production.
Besides bringing together humanitarian organisations, the event offered a unique opportunity for community members from Darfur to showcase the region's unique cultural heritage through song, dance, folklore, and traditional foods displays.
World Vision interventions in South Darfur focus on providing clean water, improving sanitation facilities, promoting good hygiene practices, emergency food assistance, providing primary health care, improving nutrition of children and mothers, and education for children in emergencies. World Vision also provides food assistance to the most vulnerable families in partnership with the World Food Programme.
These interventions benefit over 260,000 people. They include Internally Displaced Persons (IDPs) as well the host communities who bear the greatest burden of hosting new arrivals.