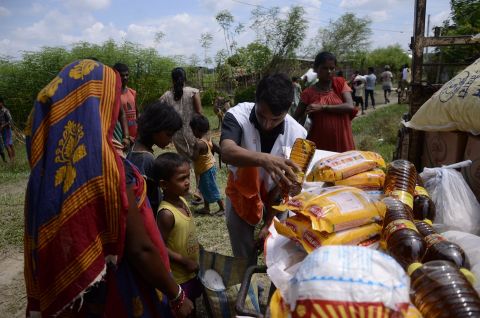 World Vision is responding to the flooding crisis in southern Nepal, providing much needed humanitarian relief to affected children and families. According to Government of Nepal, 35 out of 75 districts have been affected due to flooding and landslides. It is estimated that more than 44,000 families have been displaced and over 300,000 families have been affected and are in need of assistance.
World Vision has already reached nearly 5,000 beneficiaries through relief distribution in Sunsari, Morang and Kailali districts. World Vision continues to participate in various cluster level meetings and assessing the situation in coordination with local government and district offices regarding additional needs and emergency support in other districts.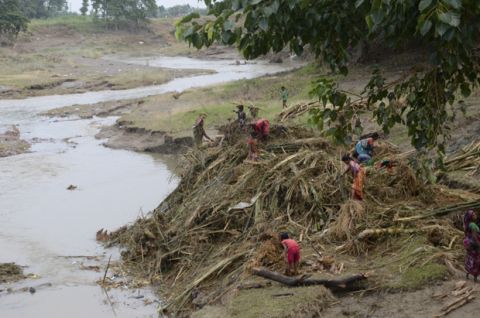 THE AFTER-FLOOD EXPERIENCE
As one walks through the villages in Morang district one can see piles of fallen walls, bamboo trunks laying on the ground which is covered with sand deposit. Actually there's not much left to them and this has undoubtedly taken a toll on the people.
"I'm one of the few ones in my community who had a bricked house. I made my house with a lot of hardship and saving; it was like my trophy. On the evening when the flood came, I locked all my belongings in the house, I told everyone that nothing would happen to my house. But when the water hit, it was so powerful, it knocked my house right to the ground sweeping away all my belongings. And as you can see now, I am only left with the clothes I had on when I ran," shares Dev Charan, 33.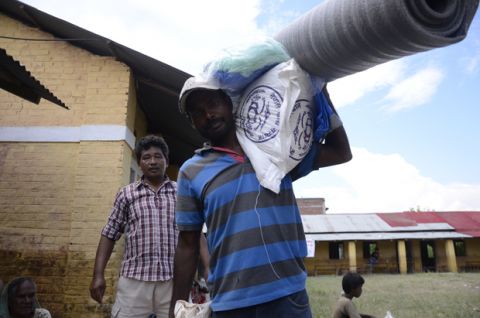 His house was swept away in the flood. Since then, he has been staying at a temporary space with his family of six. "My children were studying at a boarding school but I will have to withdraw their names from the school because all their uniforms are gone and so are the books. Moreover, it will take time for me to arrange for their fees when my current focus is sustaining life," he continues with a heavy heart.
Incessant rainfall in the past few weeks have resulted in flooding and landslides affecting millions of people throughout Nepal. "The food items I received will my family to survive for a few weeks at least. I'm relieved for a while," he says.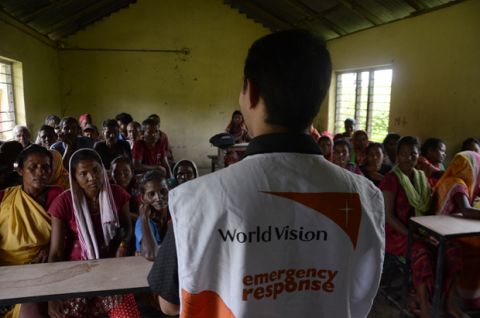 The government rescue and relief efforts is ongoing in all the affected districts. The government has made appeal for other organisations and individuals to join effort for rescue and relief assistance for the affected people.
Many effects of the floods remain to be seen. The damage to crops is likely to continue in food shortages throughout the year. And for many people, recovering from the loss of life and property will be a long process that can take many years.
---
Featured image: