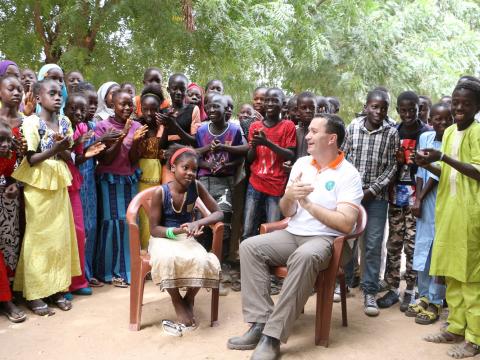 World Vision Senegal Annual Report 2017 – a new look for a new direction!
Tuesday, January 23, 2018
This year you will notice some changes in the World Vision Senegal Annual Report. As well as our usual strong focus on impact and sharing key Child Well Being achievements, this is our first year to utilize the new global branding guidelines of World Vision International and to show our alignment with World Vision International's Our Promise 2030 Strategy.
This year's Annual Report highlights some solid progress towards our 2021 goal of impacting 8 million children in Senegal particularly the most vulnerable, with a record 2.7 million children impacted through our programming in Fiscal Year (FY) 17. This is an excellent achievement and a big increase on our usual achievement of around 650,000 children impacted each 3-5 year strategy period. This is a great encouragement for us to continue our focus on proven long term development project models, effective emergency response interventions and a growing role in effective advocacy in Senegal, like we saw last year. The achievement in 2017 sets us up well to achieve our target of 4 million children impacted in 2018, which will get us half way towards our 2021 target of 8 million!
Simplified, standard branding comes to life in the Annual Report this year which includes the new use of the slightly refined World Vision logo, simple yet effective headings and the promotion of the important role that our staff play and the joy we experience as staff working for World Vision. You will also note a more detailed section on accountability and stewardship this year, to better explain to our donors and supports the effective mechanisms we have in place for this important aspect of our work which is key to our strong reputation.
And finally, we detail a strong focus towards aligning our work with Our Promise 2030, the new partnership Strategy. It is encouraging to note that our work in previous years to identify and focus on the poorest parts of Senegal, concentrate on a select number of child well-being objectives and to focus our work on a more refined group of proven project models, has set us up well for alignment with the Our Promise 2030 strategy. Over the coming years, we will continue to refine this focus to build brighter futures for more vulnerable children in Senegal.
Thank you to everyone who helped put this high quality report together, particularly the Program Effectiveness and Communications teams. It is a real credit to our office and to the amazing work each of you are doing daily to help vulnerable children in Senegal.
By Dr. Andrew Catford, World Vision Senegal National Director