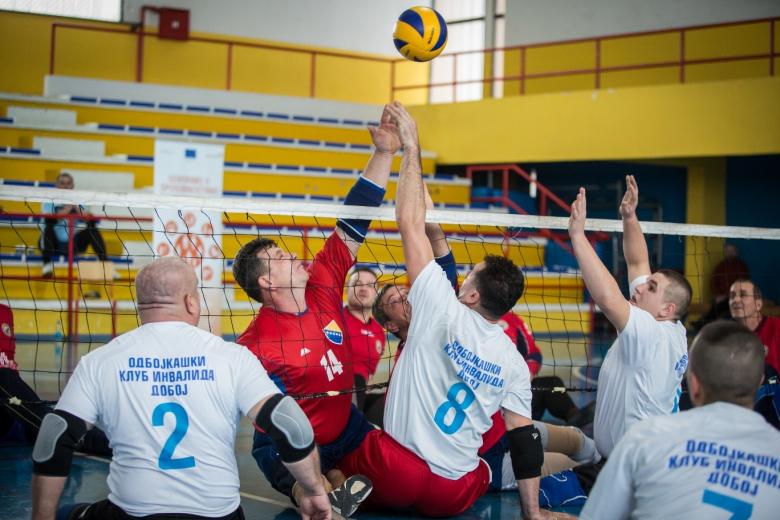 EU supports landmine victims in BiH: Landmine survivors – volleyball masters
Friday, February 9, 2018
A loud whistling and the game kicks off!

A serious young woman observes the position of twelve men sitting on the floor. She is one of the sitting volleyball tournament referees. The volley ball game follows the usual rules, with some adjustments -- the net is lower and the players are not allowed to leave the floor at any time. Instead, they slide and scoot on padding sewn into their shorts.
The Pandas are losing. Their funny name came from their desire to put a friendly smile on the face of the sitting volleyball originating from the town of Velika Kladusa in northern Bosnia and Herzegovina. The team members used to bring their children to the training, and they felt the need to connect with the kids. The tournament, organized by World Vision BiH in partnership with the Organisation of Amputees UDAS, takes place in Doboj, a town in central Bosnia and Herzegovina.  It has been named "Mine-free BiH by 2025"  to respond to the global call to mine affected states to meet the Mine Ban Treaty deadline in 2025. The tournament is part of a larger two-year project "Integrated socio-economic support to landmine victims in BiH" funded by the European Union. It provides economic and social support for 60 landmine victims and their families in BiH. The project also aims to advocate in favor of the landmine survivors' abilities and needs. It is co-funded by World Vision Austria and partnering municipalities. 
The event has been envisioned as an ideal forum to gather mine survivors from diverse local communities, many of which did not have opportunity to watch sitting volleyball, to socially interact and exchange personal experience regarding rehabilitation and integration of mine survivors.
Safet Mujic,  62 year old mine survivor from Bosanska Krupa, was amongst two dozen presents survivors who watched a sitting volleyball for the first time was "fascinated by the agility and physical abilities of his fellow survivors, some of whom were almost his age".  
22 years after the end of conflict, 129 towns and municipalities are affected by the potential threat of landmines. Landmines  affect the safety of at least 545,000 citizens in Bosnia and Herzegovina. Sadly, 14 per cent of the total number of post-war injured have been children. Doboj is one of the 10 towns most affected by landmines. Meanwhile, The Pandas are withdrawing. ''We are the only team of amateur team participating today'', they say justifying their loss. ''And we are here to spend time with others like us and share the common experience of amputees. We all face problems when it comes to finding employment. People do not see us as "complete" and they do not trust that we can function in everyday life", shares Omer Fazlic, a proud Panda.          The whistle sounds once more and we learn that the referee, Natasha Panic, is the daughter of a Club's member. She grew up coming to the games and later moved on to become a sitting volleyball referee.
"I believe that my dad, and everyone else here, has the same abilities like other people. But I can see that other members of society don't necessarily share my opinion," says Natasha. Her father, Zoran, lost his leg when he was 19. Today, he is a member of Volleyball Club of Amputees in Doboj. Zoran believes that sport is critical to rehabilitate and re-integrate landmine survivors into society. "No matter how it happened, or on which side of the war you were, we now have the same challenges, when it comes to prosthetics, medical services, employment and economic re-integration," says Zoran.
The battle on the court is competitive, yet friendly, and it's easy to sense the camaraderie between the competing teams.   "Losing a limb in a mine incident is a traumatic experience, and sitting volleyball has therapeutic effect," Zoran added, and continued, "it helped me to connect with others and regain my self-confidence so that I could focus on my education and profiling as disability rights advocate in my community".  A line of prosthetic legs, waiting to rejoin with their owners, stands next to the court. They're a reminder of the everyday struggles these people face, but also a reminder that their lifes are conditioned but not determined by  their injuries.