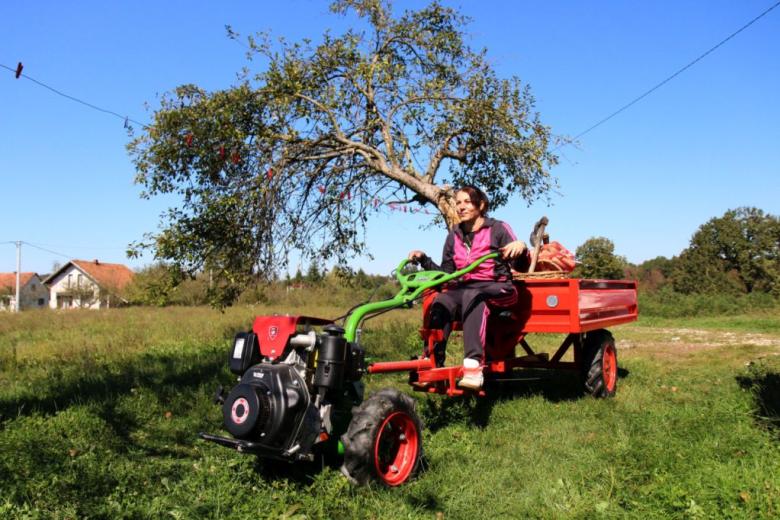 Farming in the land of landmines
Monday, October 29, 2018
It's a warm autumn day on a farm in the vicinity of Doboj, in Central Bosnia and Hercegovina. The cool wind is rustling the leaves and the tall grass around the farm, but the sunshine is abundant, not letting the cold set in just yet. In the field, a lady is collecting corn on the cob and packing it in bags. Once it dries, the corn will be fed to the animals, but the sweet white samples are going to be used for breakfast. Everyone around here loves some corn bread with their morning yoghurt.
The woman, Snjezana, packs the bags in the trailer of a small tractor, and with some difficulty, climbs onto the driver's seat. For Snjezana, walking and driving is not easy because when she was thirteen, she lost her leg in a landmine explosion.
"We escaped our village due to war and were staying at a close-by village farm. That morning, when I lost my leg, I went to untie the horses and I stepped on a landmine. "
She finds the small tractor a tremendous help for her family, since it helps them better cultivate the farmland, and in the fall, collect their produce. The small tractor was donated to her family in 2018 through the "Integrated socio-economic support to landmine victims in BiH" project, funded by the European Union and co-funded by World Vision Austria and partnering municipalities.  The goal of the project is to provide economic and social support for 200 landmine victims and their families in BiH and to make the landmine survivors' abilities and needs more visible. The project is implemented by World Vision BiH in partnership with the Organisation of Amputees UDAS.
Snjezana and her family own a greenhouse where they grow produce for the family. "The little tractor is going to help us work the land and produce even more. I hope to be able to sell small amounts of produce, too," says Snjezana.
There are a lot of mine victims in Bosnia and Herzegovina. And though some have survived their injuries, they subsequently lost parts of their bodies. Since 1992, about 8,386 people were injured by mines in BiH, of which 1,758 people were injured after the war. Over the past 25 years, many NGO and state financed projects have been implemented to provide aid to landmine survivors. Now, the state of BiH provides health insurance and finances prosthetics for landmine survivors.
However, Snjezana is distrustful of politics. She feels that politicians  do not genuinely care about mine survivors, but instead use the large numbers of people in need to achieve their political goals. "I feel no empathy in their words instead, the greater number of the victims, the better they can use it against one another. It hurts to see that they do not think about the suffering of mine victims," Snjezana complains.
There are still over a 1000 square kilometers of uncleared area. "What we have done to our children and how we poisoned the country is terrible," says Snjezana. "And what is even more sad is that we haven't learned from that experience. We only empathize with the victims of our own ethnicity and religion. This is what is ugly."
Snjezana, who was thirteen at the time of the accident with the landmine, now has a thirteen year old daughter herself. And some of the area where Snjezana lives with her family still has not been cleared of landmines. "My children sometimes want to go swimming in the rivers surrounding this village, and I cannot possibly allow that. I am too afraid, since the landmines move with the rain and the water flow and stay active for a long period of time. My children have witnessed my pain, but I do not want them experience it further."
She remembers her youth as difficult and full of wishes. She watched her schoolmates follow fashion, wear skirts, and she felt like an outsider. "I do not want my children to feel left out. I try to teach them that life is beautiful, with all it has to offer, ups and downs. If God gave me this, then my children also came from God, and they are my blessing".
This terrible experience marked Snjezana's life and the life of her family. And the battle for her peace of mind was long and hard, much of which she still prefers not to remember. However, sitting on the little tractor with her daughter, sun shining through the leaves and playing on their smiling faces, Snjezana seems to have found the happiness she was looking for.
"Every morning, I tell my children, look at us, we are all alive and healthy and we have one another. Be grateful for that."