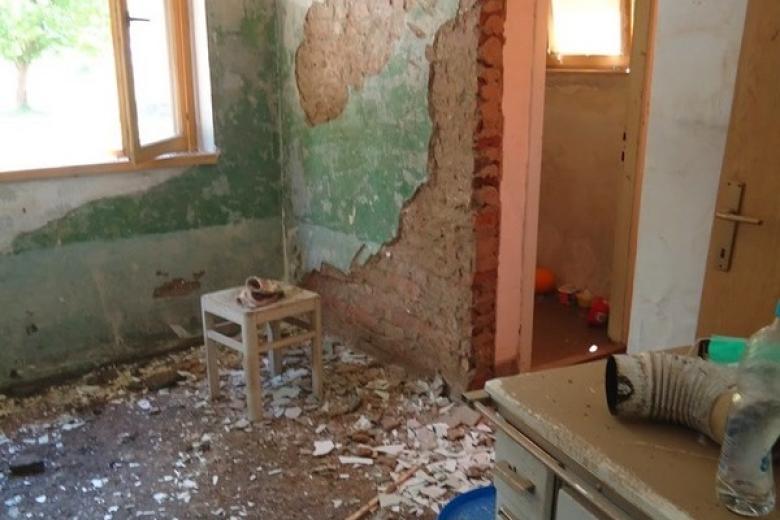 Floodwaters can't wash away hope
Saturday, May 24, 2014
Written by Nikica Reljic
When the record-breaking floods hit Olovo, in central Bosnia and Herzegovina, World Vision teams were the first to respond by providing water, food and rubber boots for people who had been rescued from their flooded homes.  Now, more than a week after the flooding began, the water has returned to its basin and people have started to clean their houses and the streets.
In the Olovo municipality approximately 100 homes were destroyed in the floods. With the support of World Vision who provided food, Hasna Vatres and her colleagues are cooking and distributing meals for people cleaning their city.  Hasna is a long-time World Vision partner and vigorous activist. Through her work distributing food, she had an opportunity to enter every single flooded home in Olovo.  Every flooded home has a story.
Kadir Karabdic had just repaid mortgage for the flat he and his four-member family lived in. "I just managed to pay it off, after 10 years," said Kadir. "And, just when we though our misery had ended, this flood came. Now, we are back to nothing," he said.
Kadir's neighbor joined in the conversation. Her flat, home to her four-member family, is also totally destroyed. But, she said: "If you are here to help us, give everything you had for me to Kadir. Both our homes were destroyed, but my husband works and we will manage somehow!"
On the same street, one of the most damaged buildings is the one that was home to 86-year-old Ismet Muratovic and his wife. They live on his minimum pension of around $200 (USD) a month and have no relatives. Their neighbours, taking break from cleaning their own homes, came to help them clean. "People clean their flats for a few hours and then, poisoned by the smell of toilets and humidity, they go to the ambulance, get first-aid and pills and [go] back to cleaning. Because there is no one else to replace them, two of my neighbours were in the ambulance this morning and came straight back to [continue] to help us," Explains Ismet.
Another couple, Ismet and Kadira Begovic had to take their son, who is disabled and in a wheelchair, to Kadira's parents house. "We have no place to sleep," says Ismet. "All our furniture and clothes have to be thrown out so we can disinfect the flat. We had to take our son to my wife's parents', but they are old, so we have to work fast and join him as soon as possible," he continues. Although he has concerns of his own, Ismet takes time to visit his neighbours and distribute water and milk to those who are not able to walk to the distribution points.
The flood may have taken many of the possessions from the people of Olovo, but even the highest waters could not wash away their hope for the future.