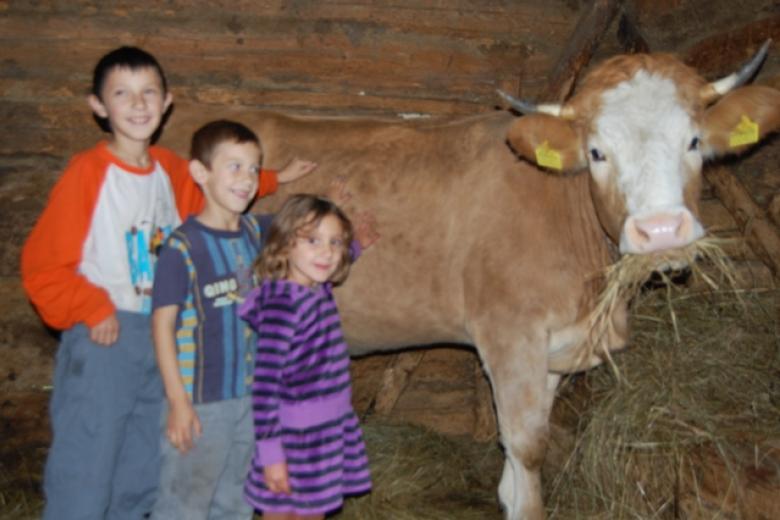 Heifer Breza brings joy, hope
Tuesday, December 3, 2013
Sead, Nusret and Selma are three lively children living in a modest house on top of the hill, overlooking a little village, meadows and a green pine forest. When he is not in school, 11-year-old Sead likes to help his parents around the house. His brother, 8-year-old, Nusret prefers to play with Selma, their 5-year-old sister. Their older brothers, Vedad, 19, and Nedžad, 16, both formerly sponsored children, have more serious tasks to do: they help their father, Samir, in his work.
Samir is construction worker. He has no steady job and works as day labourer. "Sometimes, there is work. Sometimes, there is not," he says. "Even if you work and get the job done, there are people who can't pay you," he adds, describing his family's financial struggles. This summer, instead of money, Samir received four sheep as payment for a job. Eventually, when the sheep have babies, they will be able to sell the lambs and have actual income but until then, there is no money for other things.
Samir works hard to support his family, but it is not easy to find money to pay the rent and feed his five children, without a steady source of income. Seeing the challenges this humble family faces, Samir's work ethic and determination to provide for his family, World Vision's partner in Krivaja Area Development Programme, the Kriva Rijeka Association, proposed that Samir and his family receive one heifers available through World Vision's Agricultural Support project, aimed to help families in rural areas with livestock and thus make their lives easier.
"Samir is a fighter for his family," explains Adis Jamaković, a member of the Association Kriva Rijeka, World Vision's partner in community that managed distribution of five heifers to five vulnerable families, each with at least two children. "I put him on the list for a heifer and Samir immediately said: 'If there are people in worse condition then me, let them have the animal; I will manage,'" remembers Adis from their conversation.
As Adis remembers their conversation, Samir sits quietly in the dimly lit room. He had come directly from the construction site and is still wearing his blue construction suite, covered with spots of white paint.
When Adis asked if the heifer would help his family improve their life, Samir answered: "Of course. It will be of maximum help. Look at the children I have!" he points to the three youngest ones who are sitting on the opposite end of the sofa. Samir pauses, and then adds: "This is a good project".
The children named their pregnant cow. "Her name is Breza," says Selma shyly. She and her brothers feed heifer regularly with hay they gather in the barn. Once the calves are born Breza will start to produce milk for the family and children's nutrition quality will increase significantly. Children will now have access to dairy products that they could rarely afford before.  
Samir's family, however will not be the only ones that benefit from this project. Part of the agreement, is that the first offspring is to be returned to the Association Kriva Rijeka which will then forward this calf to another family in need. In this way, the project will continue and will eventually bring much joy and relief to many vulnerable families with children in their community.
Krivaja Area Development Program is supported by World Vision Taiwan.