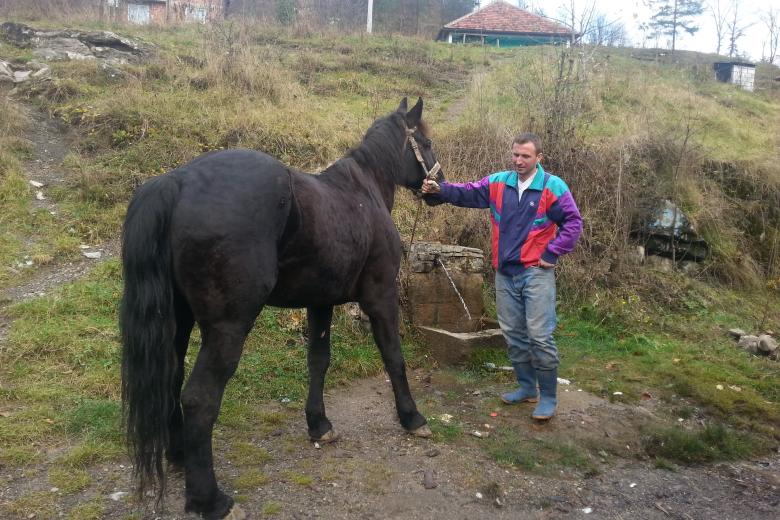 Many families affected by last year's floods are still in need of help
Tuesday, April 7, 2015
Donations of agricultural seeds, berry seedlings, bee hives, poultry, small and large cattle, financed by the Austrian Development Agency helped 2,424 agricultural producers in the flood-affected municipalities of Bosnia and Herzegovina recover their lives and livelihood security. 
Mirsad and his horse used to plow other people's fields, bring firewood from the forest and transport construction materials for his neighbours and other people who needed it. In Mirsad's family of six, no one is employed, so their horse was a valuable asset that enabled the family to survive and have enough money for their basic needs.
"Our mountains are not suitable for expensive tractors," explains Mirsad. "My horse doesn't need a lot and demands only love and care, just like human," he adds.
His family was struggling to survive when Bosnia and Herzegovina was hit by worst natural disaster in over a century. During May 2014, record-breaking floods brought destruction to tens of thousands of households, killing animals, contaminating agricultural lands and calling Bosnia and Herzegovina's food security as well as survival of thousands of families who earn their income from agriculture into question.
 More than 1.5 million people were affected. Mirsad and his family were among them. A landslide, caused by heavy rain destroyed the stable and killed Mirsad's horse. This was a terrible loss for the family that, even before the disaster, could hardly make ends meet. "Being without a horse for me is like being without my right arm," explains Mirsad.
Fortunately, the landslide missed their home. Their house cracked but didn't fall down. They ran away from the house and found shelter at a cousins' home.
Through a project financed by the Austrian Development Agency (ADA) and implemented by World Vision, Mirsad and his family were given the chance to get their life back on the track. Mirsad received a new horse and regained his humble source of income and to a certain degree his sense of stability and certainty which had been washed away by the floods.
Today, the family has returned to their home. "We are [constantly] aware of danger as the landslide is just few steps from our home, but we have no other choice" says Mirsad. His neighbour generously offered to let him to use his stable until Mirsad is able to build a new one.
Couple of hours away from Mirsad and his family, lives Mladen, 49, his wife Mirjana, 48, their daughter and two young grandchildren ages 3 and 6. Mladen is a double upper limb amputee, an effect of the country's war in the 90s. The family survives from what they are able to earn from farming and Mladen's disability allowance.
During the first wave of floods in May, the downfall caused a landslide near Mladen's house and partially damaged it. With great effort, Mladen managed to stabilize the problem and hoped that the worst was behind him.
Through the same project as Mirsad, the family received three sheep from World Vision, which Mladen planned to make the basis for expanding the herd in the future to provide more stable income generation. However, due to new amounts of water caused by snow melting in the months after the floods, the landslide was reactivated. This time, the family's home, belongings and all their supporting buildings were completely destroyed. 
"The only thing that remained untouched is the icon of the family saint that we kept on the wall," says Mladen. Thankfully, Mladen and his family managed to escape in time, taking their three sheep with them.
Mladen's family will never be able to return to their home. "There is no life for us here. I can't return. I am helpless to do anything myself. Everything we had got destroyed," he says.
At the moment, they are living in an apartment temporarily provided by the municipality. The sheep, which are Mladen's only hope for stabilization of his family's situation, are temporarily kept with a family friend who is also a livestock farmer in the neighbouring village.
"I don't know what is next for us," says Mladen. While the family awaits resolution of their housing issue, Mladen spends his days looking after the sheep with the support of his neighbour. 
Although a year has passed since the record-breaking floods that hit Bosnia and Herzegovina, many families still need help to build their futures.
This project, financed by the Austrian Development Agency, is ongoing until July 2015 and the Agency remains very actively involved with its progress and aims to ensure best possible impact on the lives of its beneficiaries.
World Vision's relief activities after the floods reached over 387,500 people, including over 140,000 children, and have helped some of the most vulnerable and marginalized communities including Roma minority and children with disabilities.