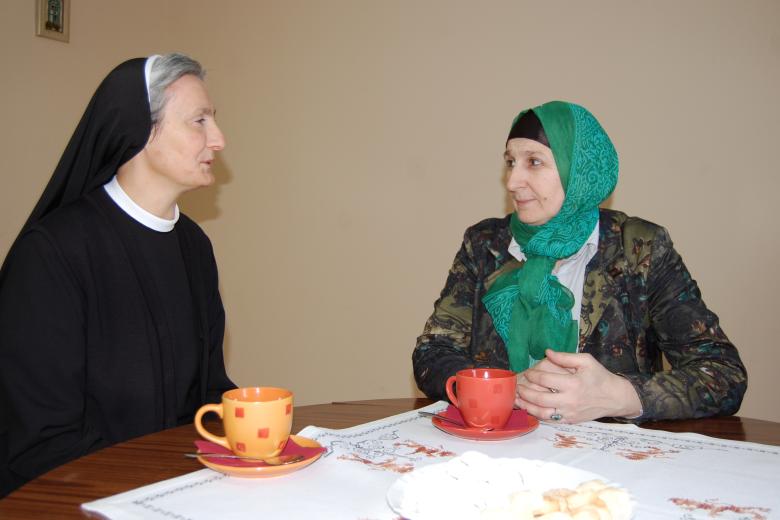 Our differences are our strength
Wednesday, February 19, 2014
In a country that is still experiencing deep religious and ethnic divides, a group of women sees their differences as a strength that helps them do good in their communities.
"We are believers. We believe in God and we know that the universal values are one and the same for all of us," says Ismeta Begic, her hair covered with a carefully folded green scarf, a visible sign that she follows the Muslim religion. Ismeta is president of the Women's Association for Inter-religious Dialogue Mosaic that is active in Central Bosnia.
The Mosaic Association gathers women of different religious and ethnic backgrounds, all of whom have the same aim: to improve the communities where they live. Ismeta puts it well, "regardless of all of our differences, when we come together we can do many good things," she said. While this concept may seem simple to some, for those who lived through the war, it is anything but obvious.
"As a country, Bosnia and Herzegovina is made of people of different nationalities and religions," reminds Ismeta, explaining the importance of interreligious dialogue in Bosnia. Indeed, the majority of the people in Bosnia and Herzegovina belong to one of three main religions: Islam, Orthodox Christianity or Catholicism. The brutal war that raged between 1992 and 1995 and claimed more than 100.000 lives left country in ruins. In addition to the physical destruction, the war also brought mistrust between the people of different religions and ethnicities. The Mosaic Association is a first steps in overcoming these divisions.
"Interreligious dialogue is important for understanding one another. And understanding one another is necessary for being able to live in any community," said Ismeta's colleague in the Mosaic Association, sister Celina, an educator at the Franciscan Covent. "Understanding each other requires lots of listening. Children listen, but it seems like adults have lost ability to hear certain things," she says, noting "we are enriching each other by sharing the values we own."
Currently, the Mosaic Association has 27 members, although the number of women who join their activities is always higher. To date, the women from the Association have tackled various issues: from organizing peaceful protests against the usage of plastic bags to the marking of International Peace Day together through writing messages of peace.
Their latest project "Celebrating our holidays together" was also supported by World Vision and brought together children whose families celebrate different religions. Part of the project included a decoupage workshop where children created projects that were sold at a Christmas Fair, as well as cooking lessons for children. The money earned from the sale of the projects was donated to a children's home.
World Vision has been supporting the Association for the past two years. "The women from the Association are very active and look for every opportunity where they can contribute to peace processes in their communities," says Helena Delic, a project officer at World Vision Bosnia and Herzegovina. "By working together people in community can accomplish big results."
In the future, the women from the Association plan to include even more children in their work. "In my opinion, the bridges between generations are destroyed. Everyone lives in their own world: grown-ups are burdened with problems, and children are left to themselves," says Ismeta, who is also teacher in local primary school and World Vision's Community Monitor in Lasva Area Development Program.
In her life, Ismeta has overcome multiple forms of discrimination. "Certain gender discrimination exists in [our] communities," Ismeta says. "It is not open, but a more traditional type of discrimination, where it is considered that it is better for woman to stay in the house," she explains.
She hopes that, once children, see that the grown-ups are active, they will become active as well, especially girls.  "We need to break prejudices. Once girls see that women are active in the community, they will understand that they too can do it, " she says.