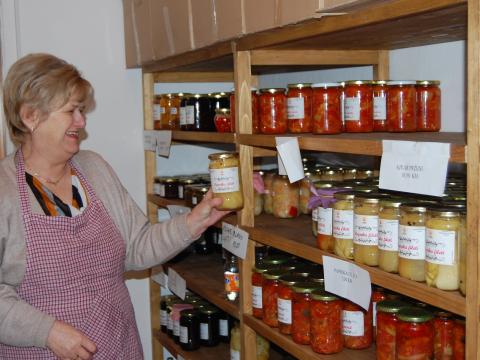 Women building better tomorrow
Thursday, February 28, 2013
Organized with an aim to help women traumatized by war, a local women's organization grows to much more.
Just after the war ended, a group of women in a small Bosnian town gathered to try and deal with their war traumas together. The situation was difficult and, as with many other places in Bosnia and Herzegovina, their town was not spared from the destruction and poverty that followed the war in which more than 150,000 lives were lost.
Hasna Vatres was one of those women. "At the time the organization was being formed, I just wanted to get away from my house, get away from my trauma," says Hasna on the beginnings of the Women's Forum "Sabina Jamakovic". Her young son, at that time a student at the Electro-Technical Faculty, was killed in the war and she was looking for a way to deal with trauma and help others who were in the same situation.
"Women's Forum Sabina Jamakovic was created out of a simple need to help women traumatized by the war. There are many of us in the organization who lost someone in the war," continues Hasna, who is now a retired school teacher. Sabina Jamakovic, who the Forum is named after, was a nurse who was killed during the war while trying to reach an injured man. She was only 21.
At the beginning, the organization was about women spending time together and talking, but as time passed, they discovered that they can do much more.  "We wanted to be useful to the people who returned to the town after the war," says Hasna. So they decided to do something to improve the bad economic situation and one of their first projects was getting livestock for their members. Next, they focused on obtaining greenhouses, 20 of which were donated by World Vision. In climates where it is hard to grow anything outside, a greenhouse was more than welcome.
"When woman has her greenhouse, she can work, she can also deal with her traumas, because from the earth that she is cultivating, fruit will grow as well as hope that she will be able to feed her children," explains Hasna.
Other similar projects followed and almost 16 years since its establishment, Women's Forum "Sabina Jamakovic" is a well-known organization in the local community, helping women and their families.
And they are preparing new endeavours. With the support of World Vision, last year the Forum equipped and opened a Workshop for processing of fruits and vegetables, called "Hardworking Hands", on the ground floor of the house they share with another organization and its Day Care for children.
Glass jars filled with colourful fruits and vegetables stand neatly stacked on the wooden shelves. Hasna proudly takes one of the jars and shows that it is hand-made. In their Workshop, women will process fruits and vegetables from greenhouses, pack them and have them ready for sale. The kitchen will start working in spring of this year, but until then the women are not sitting and waiting. Every Tuesday they bake traditional Bosnian sweets and offer them for sale. "This is already well organized, everyone knows what we do. We even have people ordering sweets one week ahead," says Hasna, adding that once they even sold 250 of tulumbas (Bosnian sweet batter, fried and soaked in syrup).
The organization counts around 90 family members, out of which fewer than 10% work.
"Most of women don't work, so Workshop comes in handy for us," explains Sabina Karagic, housewife with a greenhouse of her own. Before, Sabina found it hard to place her products on the market and earn some money, but with the opening of the Workshop, it will be easy to sell her fruits and vegetables.
"Most of us consider this Forum like their family. We became true friends and we are always there to help each other," adds Sabina.