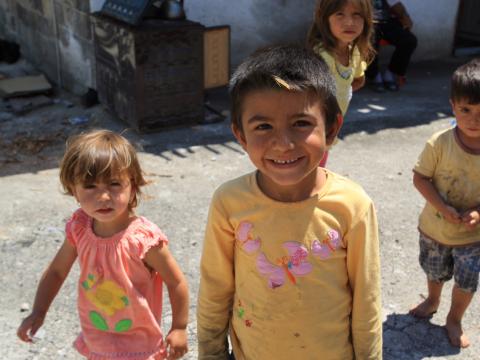 Roma Programme
Roma are acknowledged to be Bosnia and Herzegovina's most disadvantaged and vulnerable minority living in chronic multidimensional poverty. Social exclusion, poverty, unemployment, trafficking and high percentage of migration are the most significant challenges that Roma face.
World Vision believes that Roma communities in Bosnia and Herzegovina should be fully integrated into society, exercising equal rights and opportunities. 
World Vision has been implementing numerous projects with Roma communities across the country including birth registration, housing, health care, job creation, environmental protection, HIV and AIDS awareness raising, youth initiatives, primary education, non-formal education, adult literacy, cultural preservation, and organisation of meetings, open discussions and conferences on Roma human rights since 2009. Moreover, Roma Information Centre has been established which supports positive reporting on case studies and advocacy successes in the Roma communities. 
The "Advance Human Rights for Roma Minority in Bosnia and Herzegovina" project was implemented in the period from January 2007 till February 2009, and was financed by the European Union.In cooperation between World Vision, partner NGO «BOSPO», Roma Council, Ministry for Human Rights and Refugees, Resource Centers of Tuzla and Kakanj, local NGOs activities were organized in order to: advocate, promote and advance human rights of the Roma population in BiH; strengthen the cooperation and capacities of the Roma NGOs; achieve more active involvement of the Roma representatives in the decision-making process; easier access to information; raise awareness of involved NGOs in project locations, as well as in respective local communities and institutions. Project activities were based on the following issues: 
Capacities and Roma NGO strategy,
Promotion of human rights,
BiH Roma Strategy (2005) and Action Plan,
Cooperation between Roma NGOs,
Cooperation with respective institutions
The above-mentioned project contributed to the development of the BiH's National Action Plan for Roma covering the fields of employment, housing and health care.  
The National Action Plan for Roma was approved by the National Council of Ministers in July 2008 and lays the foundation for fundamental change nationally.