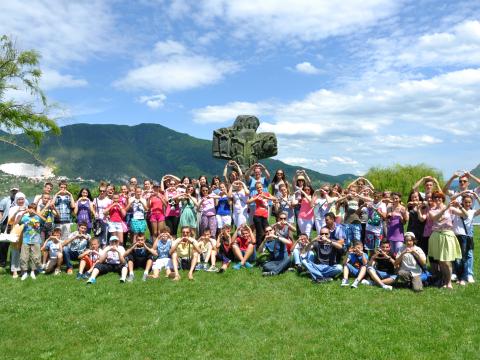 Spiritual nurture of children
Spiritual Nurture of Children: Girls and Boys Love God and their Neighbors
World Vision focuses on improving children's well-being through child-focused transformational development that aspires to result with "Girls and Boys Love God and their Neighbors". This outcome can further be expanded into branches: "Children become aware of and experience God's love", "Children enjoy positive relationships with peers, family, and community members", "Children value and care for others and their environment" and "Children have hope and vision for the future".
To accomplish this, World Vision establishes interfaith cooperation through peace-building activities integrated into the development of communities. World Vision also cooperates with representatives of religious communities in order to share the results of joint work with other communities, beyond the scope of World Vision's Area Development Programs.
 World Vision has witnessed growing number of parents, teachers and community members take interest in spiritual nurture of children.
In the context of Bosnia and Herzegovina, it is an important to note that our teams are made up of Christian and non-Christian staff as equal members. Only by modelling genuine equality and mutual respect in our own team can we bear credible witness to a God Who loves all equally.
.