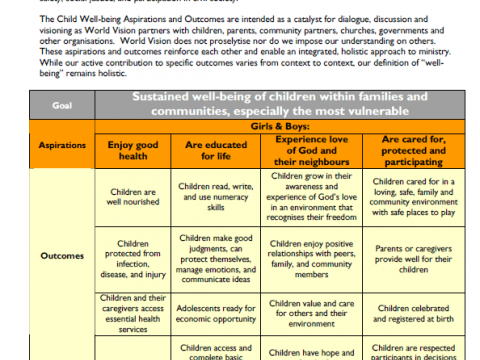 Child Well-being Outcomes and Aspirations
Friday, January 13, 2017
Indicateurs et résultats du bien-être de l'enfant
Aspiraciones y resultados del bienestar del niño
World Vision focuses on improving children's well-being through child-focused transformational development, disaster management, and promotion of justice. The Child Well-being Aspirations and Outcomes provide a practical definition of World Vision's understanding of well-being for children.
Our goal is "the sustained well-being of children within families and communities, especially the most vulnerable."  World Vision views the well-being of children in holistic terms: healthy individual development (involving physical and mental health, social and spiritual dimensions), positive relationships and a context that provides safety, social justice, and participation in civil society.
This is a one page document displaying the child well-being outcomes and aspirations.