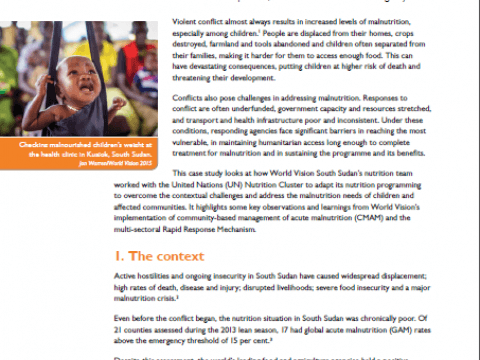 Nutrition programming in conflict settings: South Sudan Case Study
Thursday, October 15, 2015
Violent conflict almost always results in increased levels of malnutrition, especially amongst children.[1] People are displaced from their homes, crops destroyed, farmland and tools abandoned and children often separated from their families, making it harder for them to access enough food. This can have devastating consequences, putting children at higher risk of death and threatening their development.
Conflicts also pose challenges in addressing malnutrition. Responses to conflict are often underfunded, government capacity and resources stretched or unavailable, and transport and health infrastructure poor and inconsistent. Under these conditions, responding agencies face significant barriers in reaching the most vulnerable, in maintaining humanitarian access long enough to complete treatment for malnutrition and in sustaining the program and its benefits.
This case study looks at how World Vision South Sudan's nutrition team worked with the United Nations (UN) Nutrition Cluster to adapt its nutrition programming to overcome the contextual challenges and address the malnutrition needs of children and affected communities. It highlights some key observations and learnings from World Vision's implementation of community-based management of acute malnutrition (CMAM) and the multi-sectoral Rapid Response Mechanism.
[1] S Taylor, Fragile But Not Helpless, World Vision UK, London, 2013