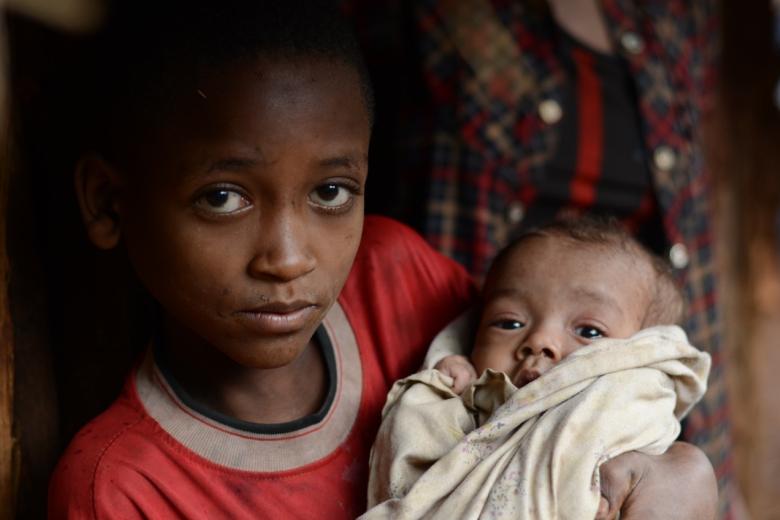 Ethiopia's hunger crisis: What you need to know
Monday, August 7, 2017
What is happening?
Millions of farmers and their children are going hungry.
Low rainfalls during the last two years have led to disastrous harvests. Even now, as rain has returned in some areas, the ramifications of the lack of rain are proving to be a crisis.
For many low-income families, low harvests mean they do not have enough food and are unable to eat nutritious food on a regular basis. Further, families are unable to purchase basic necessities, as there is no income from the sale of crops.
For many low-income families, low harvests mean they do not have enough food and are unable to eat nutritious food on a regular basis. Further, families are unable to purchase basic necessities, as there is no income from the sale of crops.
Across Ethiopia, nearly 9 million people are in need of food assistance. The Ethiopian government has declared 461 districts as disaster hotspots, in critical need of assistance.
Farmers also face additional stresses:
A fall-army worm invasion is destroying millions of hectares of crops
Low market prices for crops are leaving farmers with marginal or no gains
Lack of land is preventing farmers from expanding their field sizes to increase their yields
Who are the worst affected?
Children are hardest hit during droughts. A lack of food prevents them developing physically and mentally. When children are unable to get the required nutrients they need to develop, they are more prone to acquire diseases.
In this year's drought:
More than 2 million children have been affected by the drought
303,000 children under age 5 have been identified as severely malnourished
36,750 people have experienced Acute Watery Diarrhea, a waterborne disease that can be deadly
Children are also more likely to be neglected, as parents go further away to seek employment opportunities.
Recently, World Vision's team in Kochere, in southern Ethiopia, met 11-year-old Joseph who was pulled from school after his parents' coffee harvest failed.
Instead of going to school, the boy now helps with daily chores, takes care of his 9-month-old brother and occasionally works as a daily labourer, picking coffee on neighbouring farms for less than a dollar a day.
Why does drought occur so often in Ethiopia?
According to the World Bank, 26 million Ethiopians live below the national poverty line. They depend on small-scale agriculture to survive. Due to their precarious situation, they are unable to withstand external shocks – such as drought or a drop in market prices.
Farmers also report that climate change means once-predictable rainy seasons no longer are certain.
Michu Yabo, a 72-year-old coffee farmer in the southern part of Ethiopia told World Vision: "Before, rain used to be reliable. But for the last three years, it's been unpredictable, there is hardly any at all. And then when it does rain, it comes so heavily it floods."
What is World Vision doing about it? 
World Vision is responding to the drought with a number of other non-governmental organizations and government partners.
We are:
Addressing child malnutrition by training health care providers, providing stabilization medication and distributing nutrition supplements
Delivering food assistance to families in desperate need, in partnership with a number of other agencies and government
Distributing vegetable seeds and helping farmers improve their agricultural practices
Providing clean water to areas affected by drought
Organizing school feeding programmes to ensure children eat at least one healthy meals per day
World Vision also runs 15-year development projects in priority communities to help the most vulnerable people withstand the worst impact of droughts and other natural disasters. For farmers, our work helps families improve their ability to earn money, through livelihood training and support.
After taking part in a women's gardening and savings project, 21-year-old Workalem was able to help plant a garden at her house, reducing her family's dependence on a single crop.
The produce she grows helps feed her daughter Medhanit eat nutritious food. Extra vegetables are sold at the market. The income she earns is invested in her savings group, where Workalem has been able to take a loan to start a small business.
What can you do?
Donate – World Vision's response to hunger in Ethiopia is only 70% funded. Money donated provides children with nutritious food, parents with seeds and communities with water, among other things.
Stay informed – Learn more about the hunger response and how World Vision is responding to it through regular updates on our website, Facebook and Twitter pages.
Pray – Pray for the 7.8 million Ethiopians facing a severe hunger crisis. Pray for children suffering from hunger. Pray for the world to take action. Pray for the humanitarians and communities on the frontlines.