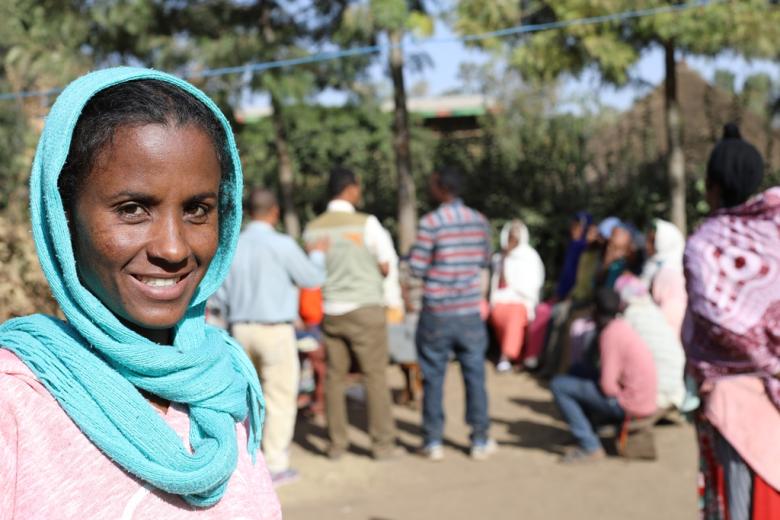 Saving changes the lives of communities in Keraka village
Friday, February 8, 2019
Food insecurity and poor saving culture coupled with limited options for household income diversification were one of the core problems that Shashemene area program Integrated Food and Nutrition Security Technical Project intended to address. According to the Combined Baseline Survey result of Shashemene area program (March 2016); only 15.3% percent of households in the operation area has two or more sources of income.
Saving provides a financial "backstop" for life's uncertainties and increases feelings of security and peace of mind. World Vision Ethiopia gives training on saving for different communities in Ethiopia. Keraka Kebele is among the smallest district in Shashamene area, some 250 Km from the capital Addis Ababa. Poultry farming is the process of raising domesticated birds such as chickens, ducks, for the purpose of farming meat or eggs for food. Chickens raised for eggs are usually called layers while chickens raised for meat are often called broilers.
After feeding her family, Aynalem sells meat chickens at the local market.
Aynalem Metaferia, a mother of one, lives in Keraka kebele at Shashemene district. She had no income until she attended saving training given by World Vision Ethiopia. Before her income comes from her husband and it was not enough to cover household expenses, clothing, and food. After taking the training, she became aware of how saving can change one's life. The saving was 25 birr weekly and after depositing for three months, she withdraws 2000 birr and bought 15 chickens. She focused on poultry by having 15 chickens for both layers and broilers.
After waiting for three months, she earns around 2000 Ethiopian birr and she is not expecting any money from her husband. With the profit, she buys clothing for her child, for herself and her husband, food for the family.
"There is a big difference between now and then, before this poultry, I always feel dependent on my husband's income, but now, I am very proud and independent of myself. I thank World Vision Ethiopia for life-changing saving training and follow-up created for me and for our community. I encourage everyone to have a saving account and change their life," says Aynalem.
"Before World Vision's intervention, I had no saving experience but after joining this saving association, I just woke up from my sleep and started seeing a bright future. For your surprise, during holidays and any day, eating egg and enough food was unthinkable, but now we eat until we become full and sell for others. I have a plan of doing this life-changing business in a big way," added Ayinalem.
Story and photo by: Fitalew Bahiru, Communication Specalist, WV Ethiopia.