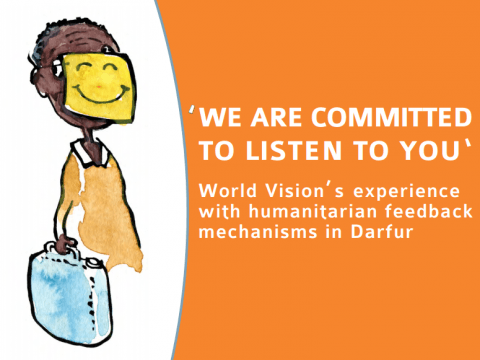 Accountability in Darfur: We are committed to listen to you
Monday, June 8, 2015
(This article is an excerpt from the linked report)
World Vision has provided assistance to war-affected children and adults in Darfur since 2004. A prolongedr conflict between Darfur rebel groups and the central government has driven more than 2.7 million people into Internally Displaced People (IDP) camps and ended the lives of 300,000 people. To date, provision of food assistance remains WV's largest intervention in Darfur with monthly food rations to approximately 400,000 IDPs in seven IDP camps and seven conflict-affected areas in South Darfur. WV is the largest implementing partner to the WFP in South Darfur and is in charge of food assistance in the IDP camps as well as supplemental feeding programs in temporary schools located in and around IDP camps. In addition to food assistance, WV provides primary health care in several camp clinics, agricultural support, education, peace building, protection and clean water and sanitation (WASH) assistance in select camps and villages. WV supports the education of children in temporary schools and runs child-friendly spaces along with vocational skills training at women's empowerment centers in several Darfur camps.
Establishing feedback loops in restricted and conflict-affected settings requires an added vigilance and sensitivity given the safety concerns for both the recipients and aid providers. Aid workers are increasingly viewed with suspicion by the national government and there are multiple barriers to engaging with aid recipients and soliciting their views and suggestions.
"Despite the challenging context, WV's commitment to improve accountability to IDPs in Darfur has not waned. In fact, WV staff plan to scale up and enhance these processes across the Sudan operations," the ALNAP/CDA report concludes after a careful observation. Read the full report.