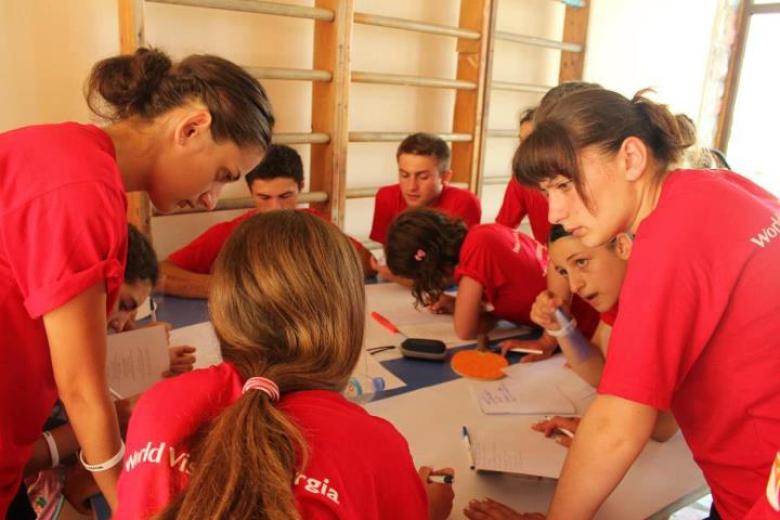 "Youth for Youth" camp unites youth from all three ADP regions of Georgia
Thursday, October 4, 2012

World Vision Georgia Youth Camp gathered 60 active young people from all three ADP regions in a seaside youth camp in Ureki to jointly develop ideas, reflect on ADP programming and receive recommendations, strengthen already established networks, share experiences, and just have fun.
In 2011 World Vision identified Youth Empowerment as a core driver of youth development for Middle East and Eastern European Countries. WV Georgia was one of the pioneers in terms of adapting and accelerating "Youthfication". We undertake number of youth focused initiatives that develop strong local leaders among youth who can work to bring hope to their impoverished communities. WVG began forming youth clubs in Georgia in 2010. Now there are 41 youth clubs with over 600 youth participants in all three ADPs, most of whom are 13 to 17 years old.
Youth empowerment is a fundamental part of World Vision Georgia's work in the ADPs as a means to inspire increased confidence and civic engagement and to improve academic performance among young people.
"Being in this camp is like a miracle for me, it is an unforgettable adventure and I will be grateful to World Vision all my life,"
gushes 16 year old Jana from Kakheti. Back at home, she left a ruined house and a mother who now lives with a neighbor. Escaping such a depressing situation to live in a happy, friendly atmosphere for one week made her smile again. Anjela wants to be a peer educator to receive useful information that she can share with others. She believes the experiences she received in this camp will help her in her future.
Youth presented their recommendation on further improvement of World Vision activities. Their vision and wishes of World Vision's future work was documented and may seriously influence organizations future activity in the communities. Establishment of relationships with youth from other countries where World Vision operates, engagement of younger children in activities, working with children from state care institutions and more active promotion of World Vision achievements are some of the recommendations received from youth.
"The majority of youth in this camp are peer educators who help us to share information in their communities, said Nana Berdzenishvili, World Vision Georgia Operations Manager. "It inspired the name of the camp, Youth for Youth. 
World Vision is very proud to have one of the strongest youth networks in the three regions of Georgia. This camp and the information they received from it positively influences the self esteem of these youth."
With years of experience behind them as World Vision volunteers or members of the Youth Clubs, these young people have proven their commitment, maturity and capability to write and implement small projects or develop advocacy and fundraising campaigns for their community.Ana Machitadze has had three years of experience of being youth club member and participated for the third time in the youth camp. During this time she transitioned from a shy, timid girl into an active person who leads and initiates projects and successfully implements them. One of the best achievements she can think of is that through effective advocacy efforts from youth, the local government in her community made a plan to collect waste in the village, which was not a practice before. "As a result of the initiative, the government assigned a garbage collection vehicle to three villages, which significantly improved waste management in these communities [in the Imereti ADP area]." Ana shared this story and others about her groups' successes with other camp youth and eagerly listened to experiences from others.
Youth from the Samtskhe-Javakheti ADP also had successes to share with camp participants. The Mokhe school club designed a project to build a bus station for the community, which had fallen apart many years ago. Youth held a meeting with the local mayor and asked for co-financing and the local government agreed to cooperate and is now building the bus stop.
"The most important change that we see now is that our opinion matters in our community and even to our local government," said Tamaz from Kakheti. "
"The situation here is great, I really like that here are youth from three different regions," added Irma Markoidze from the Samtskhe-Javakheti ADP. She continued, "I have met many creative and smart people and it is great to share our ideas and opinions. I am sure all of us will have a great experience from this camp."
Tornike Abuladze, another participant, said, "I had big expectations! I knew that I would have fun and also learn many useful things; I thought trainings might be a little boring but in the end it was so interesting and interactive that I did not notice time elapse."