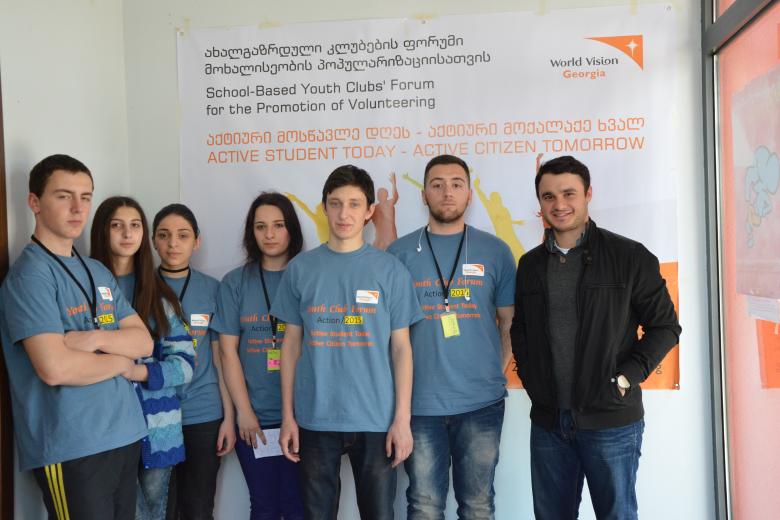 Active Student Today - Active Citizen Tomorrow
Monday, May 18, 2015
Tbilisi School Based Youth Club Forum "Active Student Today - Active Citizen Tomorrow" enabled 70 youths to develop professionally and bring their voices to stakeholders from different governmental and non governmental institutions. The event was organized by World Vision Georgia within the Global Week of Action and ACTION-2015.
"Tbilisi School Based Youth Club Forum is the platform, where youngsters from the capital of Georgia can share their experiences and work with peers. The forum enables teenagers to learn about new non-formal education methods, discover the benefits of after school activities and establish the ways of involving vulnerable youngsters in different youth related activities." Says Irakli Giorbelidze, Youth Officer at World Vision Georgia. "We are happy to cooperate with 3 public schools in Tbilisi and we hope to expand the number of school clubs throughout the city. School Clubs are the only existing tool for empowering youngsters and promoting active citizenship, bringing better future for Georgia/South-Caucasus." He added.
During the 3 days-long event youth from Tbilisi's #160, #167 and #143 public schools participated in workshops about human rights, discrimination, tolerance building and informative session about World Vision's identity and holistic theology, led by WV Faith in Development manager Nana Danelia. Through interactive sessions and role play games they received information about general terms and definitions and explored the need of respect towards minorities. Participants also learnt about international experiences of youth clubs and social campaigns that can help them make their club activities more interesting, creative and interactive.
"Being with my friends and peers has never been so productive. We had the opportunity to explore new tools and methods. I learnt a lot about how to implement activities, educate others and be an active citizen. " Says Mari, from Tbilisi's #160 public school.
Later youngsters were able to choose the type of activity they were most interested in and develop project ideas. Ideas included raising awareness on environmental challenges and waste management problems as well as various educational activities.
"We spent a lot of time on developing ideas; it was not easy, since none of us had previous experience of working on project proposals. We were able to present our work to the facilitators, receive their recommendations and work on its further improvement; I think in general we all did a great job." Says Zurab, Youth Forum participant.
On the last day of the forum participants presented their future project ideas to the invited guest speakers, including the Youth Ambassador to the UN, representatives from the Children and Youth National Center and the Children and Youth Development Fund under the Ministry of Sport and Youth Affairs of Georgia, Crime Prevention Center's program "Leaders House", Youth Department of Tbilisi City Hall and publisher agency "Radarami". The guests were interested in the project ideas and promised to support them. They also informed youth about the various youth empowerment services that are available in the country and encouraged them to get involved.  
"Students presented very interesting project ideas in response to the different social issues in the country. Publisher agency "Radarami" is always happy to support similar initiatives. I'm glad to know such active and motivated youngsters". Says Mariam Aduashvili Executive Director of the publisher agency "Radarami."
 "International Center for Peace and Integration (ICPI) is grateful to be a part of Tbilisi School Based Youth Club Forum. A team of trainers has done their best to plan each and every session in order to support youngsters' initiatives and sustainable development of their school based clubs. Various creative and interactive workshops have been implemented to inform participants about different possibilities of making positive changes." Says Ana Pilauri – President of International Center for Peace Integration (ICPI)
 "We all admit that children and youth are the future of our country. They have huge potential to change our society and make our country a better place. We should listen to them and support their development as future leaders. Youth development is an essential component of World Vision's work. I trust that such Youth Club Forums will help youth explore their understanding of humanity and encourage them to fight poverty and advocate for social and systemic changes in future." Says Nana Danelia -  Faith and Development Programme manager.