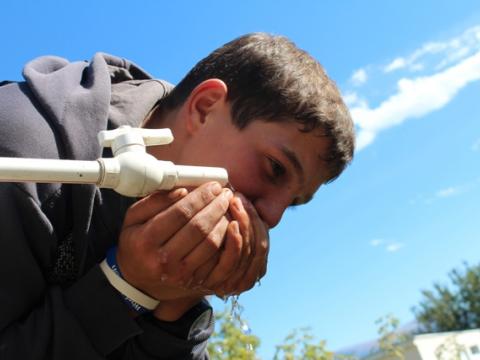 Clean Water for Schools
Friday, March 14, 2014
Twelve-year-old Tamar brings a bottle of water to school for drinking every day, often sharing it with her classmates because there is no water at school. For more than 10 years, her school was in very poor sanitation conditions; the classes were not properly cleaned and the 150 students did not even have the chance to wash their hands—conditions that deterred children from continuing their education.


"Dirty and unhygienic school environments discourage students, particularly young girls, from attending their classes [and] prevents children from getting an education that could help their families and communities break the pervasive cycle of poverty," says Lela Kimadze , a teacher in the school.
In response to the problem, community members approached World Vision's Samtskhe-Javakheti Area Development Programme staff and asked for help. World Vision's staff immediately conceded the importance of children having access to clean water and a health learning environment and partnered with the community to help provide one.
The joint effort of community members and World Vision brought water to the school after just three months thanks to the installation of a 1,830 meter pipeline which now brings clean, safe water straight to the school. World Vision provided the materials which the community members installed.
"This was a very important project for community," says Elena Begiashvili, World Vision Samtskhe-Javakheti ADP staff. "Bringing clean water supply to a school helps children, teachers, parents and community leaders understand just how important health and hygiene are for staying safe. It [also] allows children to stay in school for longer - so they can learn more," she adds.
"My classmates and I are really very happy, as finally we have water at school. [Not having water] was creating lots of problems and I think, in many cases, it was the reason for spreading infectious diseases in school," says Tamar.
Today, Tamar no longer has to bring water from home, or ask neighbours for it because every child has access to clean water at school.
World Vision works in schools to provide suitable technological solutions combined with hygiene education. Several awareness raising activities have been arranged with the help of schools parent club.
"The hygiene behaviours that children learn at school — made possible through a combination of hygiene education and suitable water, sanitation and hygiene-enabling facilities — are skills that they are likely to maintain as adults and pass on to their own children," says Manana, a member of the parent's club whose daughter studies at this school.
Without such facilities and training, schools risk becoming places that actually cause sickness for both students and teachers, instead of helping prevent it.
Clean water, basic sanitation and hygiene access and education are essential to fostering healthy development and educational achievement in children!
Additional info:
Although Georgia is rich with hydro resources, communities and schools mostly lack access to potable water. In a best case scenario, several water spots are available in the community, while most of the schools do not have such spots at all. In Samtskhe-Javakheti ADP from water and sanitation initiatives implemented throughout the year benefited over 200 children at schools and kindergartens, having improved sanitation conditions and access to clean potable water during a day. 84 families now have water spots closer to their households, with running spring water all day long