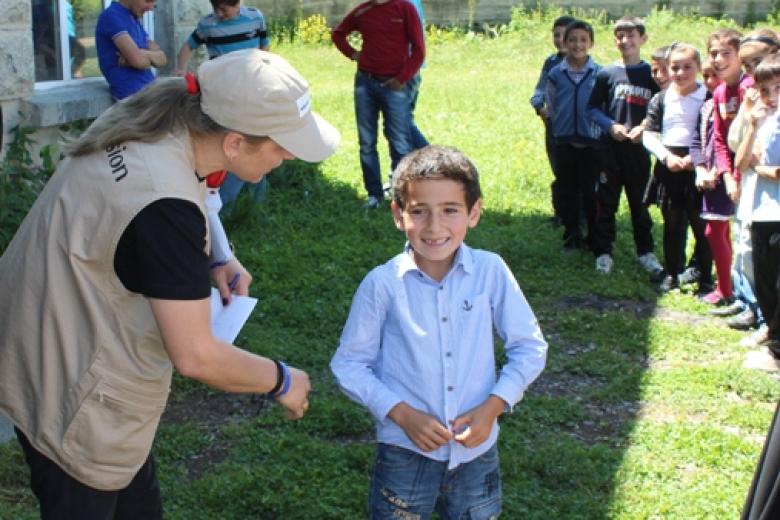 I know how to cope with a disaster, be a team member and care about others
Thursday, March 6, 2014
Georgia is a beautiful, natural land, with lots of mountains and rivers. But, at the same time, its geographic location makes it vulnerable to natural disasters: earthquakes, floods and landslides to name a few. In addition to natural disasters, manmade conflicts are also common (two breakaway regions and several wars over the last two decades) making emergency preparedness an important and timely topic for the country. However, little has been done to prepare communities to deal with disasters – natural and manmade- or increasing the communities' awareness on how to reduce the risk of a disaster happening (DRR), especially in the rural areas. The Samtskhe-Javakheti region is not an exception.
"Schools in our region give students only theoretical knowledge about evacuations during natural or manmade disasters," said Simon Parunashvili, Governor or Adigeni Municipality. "But they have never simulated it in practice…theory [without] practice will never give the desirable results," he added.  
As a result, school-based disaster risk reduction (DRR) project was initiated by World Vision in 2012 with the goal of increasing rural schools' preparedness to respond to natural and manmade disasters in Samtskhe-Javakheti Area Development Programme (ADP). The project included capacity building for teachers and students on the topics of: environment protection, waste management and first aid. Additionally, schools were provided with fire equipment and developed evacuation plans. To put lessons learnt into practice, all participant schools organized emergency simulation where teachers, school personnel and children experienced the evacuation process they would use during an emergency.
"Fire simulations will enable us to control the situation during a real evacuation and bring up a generation [of students] prepared for any kind of disaster," said Temuri, Director of Mokhe public school.
"The simulation was very interesting. I think the knowledge we gained is vital and now we are able to evacuate from school in a safe and organized way during any disaster," added Irma, 16, a student of Mokhe public school.
"Now, I know how to cope with a disaster, to act as a team member and care about others at the same time, when something bad happens," said Merabi, 10, a student from Vale public school.
Fire simulations were conducted at seven public schools in Samtskhe-Javakheti ADP target communities. It worth mentioning, that World Vision did not organize the fire simulations alone; the local government, emergency management department and ambulance services were also fully involved with the planning and implementation of simulation activities which were carried out in  in an effective, informative, real and unforgettable manner.
"Last year I attended the First Aid training conducted by World Vision and today, during the fire simulation, I've learnt how to behave practically and help injured people,"  said Natia, 16, Muskhi public school student.
"I'd like to thank you World Vision for giving us the opportunity to be involved in these fire simulations. The kids are very interested in getting more information about fire and I am sure these simulations will prevent at least manmade fire disasters," said Kakha, the main specialist at the local fire station.
"It was a big surprise for me that junior and high school children know how to provide first aid assistance. When we were leaving, I saw that the kids were satisfied and glad for their newly gained practical information and I felt their happiness and saw their readiness to resist any kind of disaster in their eyes," said Kostantine, the head of the local ambulance service.
The fire simulations, held by World Vision Georgia resulted in a successful long-term partnership between the local emergency management department, the ambulance services and the schools. All stakeholders agreed to conduct simulations every three months independently in order to ensure constant readiness for natural and manmade disasters.
Through this initiative, 918 children received practical training and hands-on experience in coping with disasters.