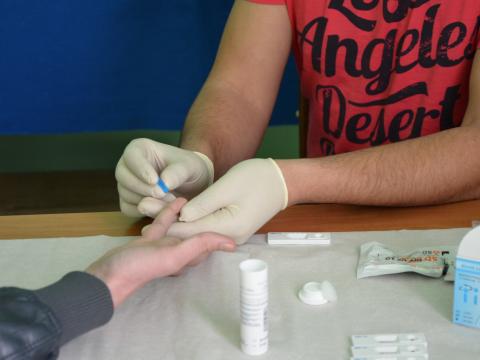 Multi-country project on HIV and Migration Ends with Tangible Results
Monday, April 28, 2014
Like many, Armen, 34, was compelled by high unemployment and low wages to leave his home country of Armenia in search of opportunities. After many years of following the work around the South Caucasus, he found himself in Georgia. Fully expecting the result to be negative, Armen agreed to an HIV test. The news that he was HIV positive was devastating.
"When we first met [Armen], he was depressed and demoralised," remembers Lasha Tvaliashvili, Director of Real People Real Vision, a local non-governmental organisation that works on HIV issues among the migrant population and one of the project partners. "We -provided psycho-social assistance[and] gave him all the needed information," he added.
As an Armenian citizen, Armen was not eligible to receive ongoing HIV and AIDS treatment in Georgia. Real People Real Vision helped Armen transition back to Armenia and connected him with a partner organisation - Real World Real People so there were no breaks in his treatment. Such kind of cooperation is part of the cross-border referral mechanism that aimed to assist migrants who need HIV related services in the hosting country. During the project lifetime, several cases were chosen to test the cross-border referral and reveal the gaps.  
The cross-border cooperation made a huge difference in Armen's life. But, he was not the only one. Armen was one of numerous people who received direct help thanks to a two-year, multi-country project covering Georgia, Armenia, Azerbaijan and the Russian Federation which was funded by the European Union.
During the lifetime of the project, nearly 9000 migrants, including the most at risk populations and their family members , were reached through the informational and outreach session in the selected regions of the project countries.
In addition to wide-scale raising awareness about the risks and potential spread of HIV and AIDS among migrants as well as the general population, the project also aimed to serve those people whose lives had already been irreversibly touched by HIV; those who knew they were HIV positive or found out through the project they were.
  Experts have identified that widespread seasonal labour migration of men and women in the South Caucasus region is a major factor which is fuelling the spread of HIV and AIDS across the region. 
"By Uniting local NGOs from four countries that cooperate among each other, we tried to help migrants who need to get information about HIV, testing, treatment, care and various [aspects of] psycho-social support," said Katerina Zezulkova, manager of World Vision's EU-funded "Cross-Border Cooperation For HIV and AIDS Prevention and Impact Mitigation In Southern Caucasus And Russian Federation" project. Also, impact beyond the implementation countries was ensured through the partner 'Eastern European and Central Asian Union of People Living with HIV' (ECUO) which has member organisations in 16 countries.
As this project draws to a close, the impacts are being measured and the findings analysed while emerging trends that require ongoing and adapted strategies are identified across the four countries.  At a closing conference for the project, partners and stakeholders from all four countries came together, to exchange information, findings and analyse emerging issues and trends from a regional perspective.
In order to analyse the migration trends across Georgia, Armenia, Azerbaijan and the Russian Federation to be able to better address migrants' needs with regards to HIV, World Vision and its partners supported the creation of a Regional Desk Review Report which identified several challenges with regards to provision of prevention, treatment and care services; administrative barriers to HIV prevention, treatment and care, limited affordability and funding of services, social exclusion and stigma.
In order to address revealed problems, the project equipped and mobilised health care providers, teachers, youth workers, church leaders and social workers, to educate people about the spread of HIV awareness in a way that was both accurate and effectively.  Gocha Lagvilava was one of the project's peer educator in Georgia. He was responsible for providing trainings to the migrantsfamily members. "Family members of migrants had many questions," he recalls from his conversations. "The information that we gave them was very important," he affirms.
Promotion of HIV testing was one of the main advocacy direction. More than 800 people got tested during the European HIV testing week in the four project countries. The event was launched under the  one message "Do tell your neighbour" which, at the same time, started the broad social media campaign. Hundreds of people were tested for HIV, highlighting an important shift in mentality as many people before preferred not to know their status to potentially facing stigma and discrimination if their results were positive. 
The project engaged 59 governmental, non-governmental and international organisations from the countries of South Caucasus and the Russian Federation in order to strengthen the response to HIV among migrants and mobile populations.
"The project made a huge contribution to position ourselves as a community-based NGO, bringing innovative initiatives in the HIV related processes," says Medea Khmelidze, project coordinator for Real People Real Vision. "Moreover, as the project is sub-regional, it helped to build the partnership with the relevant stakeholders in the field of HIV in Armenia and Azerbaijan," she added.
The campaign reached 1000s of viewers and was shared across the wider region.  https://www.facebook.com/hivaidspreventioninsoutherncaucasusandrf?ref=hl