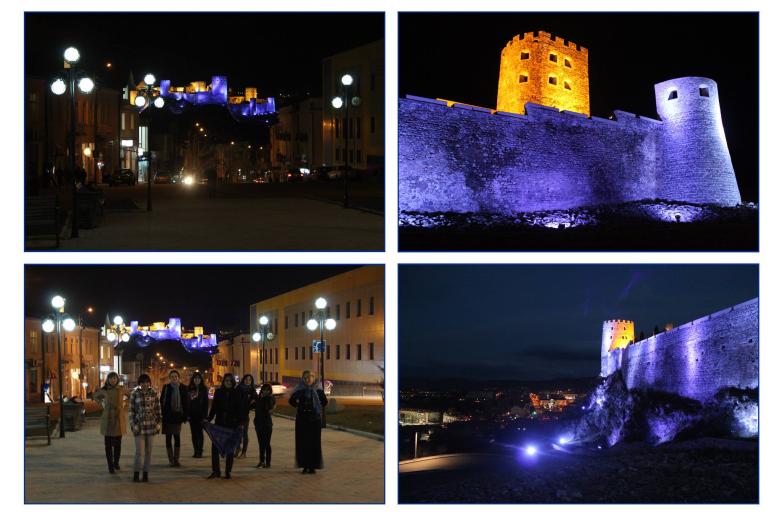 World Vision Georgia celebrates World Autism Awareness Day
Thursday, April 3, 2014
Blue lights  shine on Rabati Castle and Meskhishvili theatre  as part of a global initiative to raise awareness for Autism.Every year, autism organizations around the world celebrate the day with unique awareness-raising events. World Vision Georgia with the support of local government has joined the campaign with lighting up two major buildings of Akhaltsikhe and Kutaisi. Blue lights will shine on buildings for ten days. 
" most rewarding for us were calls from parents of children with autism, who were reflecting upon this event and sending words of gratitude for the  support they really needed. Even more, those are families from around the Georgia, beyond the target areas.
I'm so proud that we did it. Actually we were not expecting such a big response for this effort. But now we know that it really matters and we are going to the right direction for disability work."-  said Viktoria Medilauri Disability Inclusion Officer.
Apart of joining "Light it Up Blue" campaign World Vision organized  awareness raising campaigns on Autism .
7 schools of Samtkhe –Javakheti ADP have been trained.
 youth clubs have organized documentary film presentation and discussion .

Autism is a disorder of neural development characterized by impaired social interaction and verbal and non verbal communication and by restricted, repetitive or stereotyped behavior.

In Georgia about one in 110 children has been identified with Autism Spectrum Disorder (ASD).

 You can see video