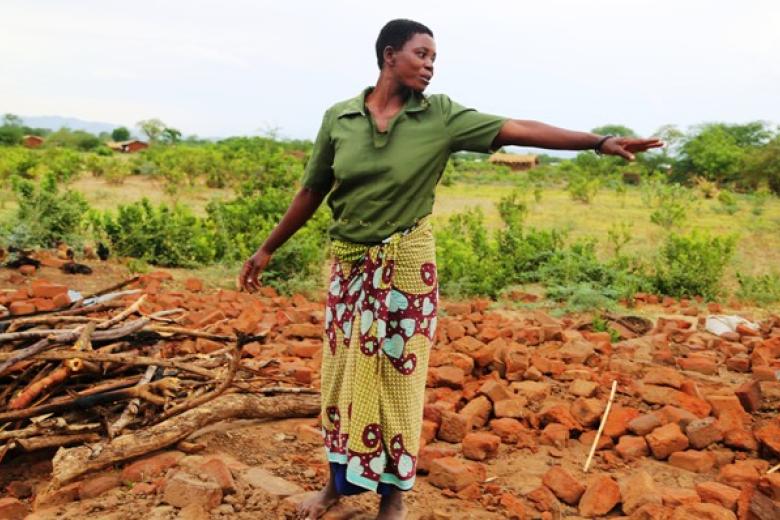 Hailstorms increase suffering population in Malawi
Monday, January 5, 2015
More Malawians stand to suffer as the recurring hailstorms are piling pressure on hungry families, says World Vision Malawi.The sudden development has negatively affected Aid agencies that had already committed resources towards feeding food insecure households across the country.
The remarks were made by World Vision Malawi's Humanitarian and Emergency Affairs (HEA) Manager, Dingiswayo Jere, as the organization donated Maize and other assorted items to one thousand families affected by the hailstorms in Nsanje district, Southern Malawi.
"Since the rains begun, we have been receiving reports of disasters across the country", he said. "The worrying thing is that these are coming at a time when the Government and us (Non Governmental Organisations) are helping over 700 thousand food insecure people and with this it means there will be more deserving people than the actual number that was planned".
World Vision distributed a 50 kilogram bag of maize and 10 kilograms of beans to each affected household. For families whose houses collapsed due to the heavy rains, World Vision provided tents to provide temporary shelter as they reconstruct their houses.
So far, the hailstorms have hit Nsanje district, where World Vision is responding, Blantyre, Lilongwe, Dedza, Karonga, Mzimba and some districts in the Eastern Region of the country.
Houses, school blocks and churches have lost roofing while some buildings have completely collapsed, a development which World Vision further believes will affect children considering that schools will be opening shortly.
"With the collapsed buildings, it means there is need for more than just food to normalise the situation," said Jere.
He added that "there is need for shelter for the households, and makeshift class rooms to ensure that the children whose classrooms have been damaged resume their lessons as soon as possible.
This comes at a time when World Vision has already declared a Category ii emergency response, with the organization joined a World Food Programme (WFP) –led consortium in responding to the natural calamity. World Vision was assigned five districts, with a total population of nearly 50 thousand where food and cash is being delivered.
According to weather forecasts, Malawi is expected to receive more than average rainfall, a development which means that there may be heavy flooding in flood-prone and low lying areas across the country.