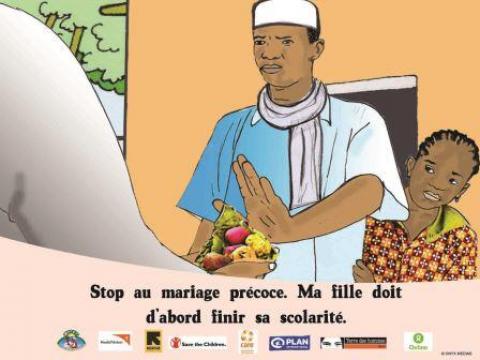 World Vision engages in a mass communication campaign to end Child Marriage in Mali
Sunday, October 18, 2015
Every year, around the world, fifteen million adolescents and teenage girls are forced into marriage, denying them of their right to education amongst their most fundamental human freedoms.  That is 28 girls every minute – married off too soon, endangering their personal development and wellbeing.[1]  Although, child marriage is found almost on every continent, it is in Sub-Saharan Africa that we find one of the highest prevalence.  In Mali, according to the Multiple Indicators Cluster Survey (MICS 2011) 61% of girls are married before the age of 18, while a staggering 20% of Malian women, between the ages of 20 and 24, were married before the age of 15.
Generally speaking, child marriage has always been considered a sensitive issue including Mali.  Long held beliefs that uphold the honor of the family above all, poor interpretation/knowledge of Islam's position on child marriage, weak civil status and birth registration systems, a legislative framework not aligned with ratified international conventions and poverty have perpetuated a never ending cycle of violence against millions of Malian girls for generations. 
In spite of this hostile environment, WV Mali and partners through a collaborative effort tirelessly advocated for the launch of a national campaign to take place. To send the signal of a will for change, World Vision put together a one-month mass awareness raising strategy which included 36 billboards in 5 out of 8 regions and in the capital Bamako; role plays aired on TV; street interviews; and a radio debate broadcasted on 34 radios. Panelists from UNFPA, African Union, a Parliamentary who is a reputable surgeon on fistulas from the Health Committee at the National Assembly and one Muslim religious leader (Imam) debated at length on the causes, the consequences, the legislative framework and Islam's position on child marriage.  This debate with key short messages is aired on many local radios and translated in seven (7) local languages for a month.  The campaign will run a whole month focusing each week on one theme: week 1: Education: keeping our girls in schools a means to fight against Early Marriage; week 2: Birth registration prevents Early Marriage; week 3: medical & psychological consequences of Early Marriage on girls; week 4: exploitation of girls: the case study of gold mines.
" Mrs Keita Aminata Maiga, Mali First Lady opens the national campaign to end child marraige and says that child marriage endangers girls wellbeing and perpetuates the poverty cycle"
WV Mali mass awareness raising campaign started as a pre-launch to the national campaign against child marriage which took place on October 11 under the high patronage of the First Lady Mrs. Keita Aminata Maiga in collaboration with the Ministry of the Promotion of Women, Children and Family along with a coalition of UN agencies and key international NGOs such as Unicef, Plan Mali, and Save the Children. This national campaign was done under the lead of the African Union in collaboration with member states, to reinforce efforts to end child marriage. The theme chosen in Mali is "Keeping girls in school: a means to fight against early marriage" although the overall goal is to contribute to the social mobilization to strengthen efforts in the fight against child marriage.
Expected results might not be observable right away but it is our goal (and not just hope) that as policy makers, opinion/religious leaders, and civil society are made aware of this issue, they become more committed for actions against child marriage which ought to lead to a framework for an harmonized national response in this battle.
[1] http://www.girlsnotbrides.org/what-is-the-impact/