Education is the key to unlock the golden door of freedom. – George Washington Carver
"Time flies when you're enjoying your work," says Krishna Hari Ghimire, principal at a government school in Morang district. He is 52 but still lively as ever.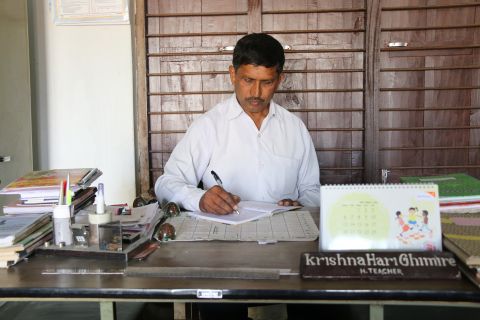 Krishna has spent more than two decades of his life at this school, first as a teacher and later as a principal. He says, "I have dedicated my whole life to the education of my community."
Situated in Morang district, in the eastern part of Nepal, this school has 386 students and 13 staff. "95% of our students are from least-privileged and so-called low caste Dalit communities such as Musahar and Bantar," he says.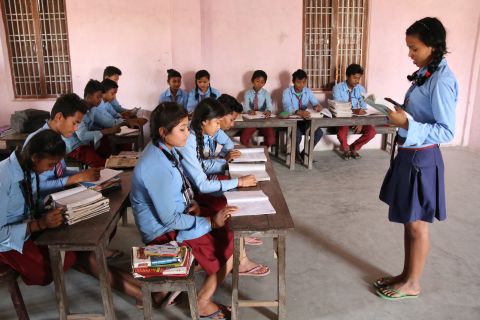 As per Central Bureau of Statistics, 2011, Dalits comprise 13.2% of the total population of Nepal. The literacy rate of Dalit women is just 45.5% and women from Musahar community are at the bottom with literacy rate of 17.4%.
Dalits also comprise the poorest community in Nepal, by all poverty measures – income, consumption, and human development. 42% of Dalits fall below the poverty line which is 17% worse than the national average of 25.2% (Nepal Living Standards Survey, 2010).
Usually, Dalits serve others as semi-bonded labourers. Most Dalit groups employ their own traditional occupations such as iron work, gold smith, tailoring, shoemaking, bamboo crafts, etc. Such occupations are the only way that many Dalits are able to survive. Unfortunately, most of these people do not receive fair value or social respect for their work.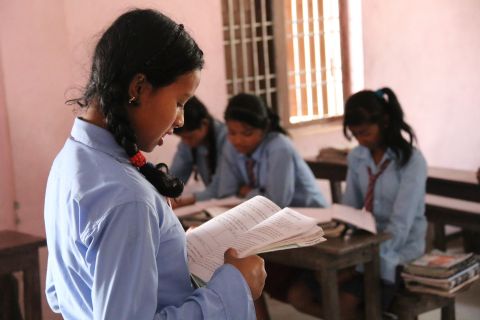 "The only solution for the social and economic transformation of Dalits is education and that is exactly what this school is trying to do," says Krishna. "We are thankful that World Vision has constantly supported us in this effort for more than a decade by providing us with support for building construction, for toilet construction, for educational materials, child-friendly learning training, and much more."
Krishna points towards the first floor of the main school building and enthusiastically explains it was constructed with the sole financial support of World Vision. Two spacious rooms have been built there; one is being used as a computer lab-cum-library, the other is the classroom for grade eight. Painted in pink both rooms look neat and clean. The renovation work of the teacher's room on the ground floor was also supported by World Vision. "It has been a real blessing," he says as he enters the computer lab.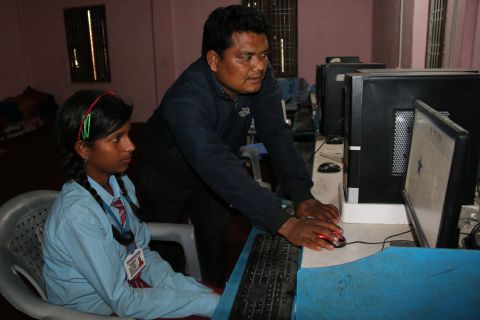 Preeti (14), a grade eight student, enjoys learning Microsoft Word and Power Point and says, "Not only did we receive support for the construction of this lab and the adjacent classroom but our school was also provided with five computers, a projector and a backup battery. Earlier, we had computer books but there weren't enough computers for the practical class but that's not an issue anymore. We feel fortunate to have such facilities which are normally present only in expensive private schools."
When asked about her future ambitions she reveals, "I belong to the Dalit community and the low educational status of Dalits has remained one of the major barriers for our human development. Therefore, I want to study well and become a teacher. I want to teach other people from disadvantaged communities like mine because education gives you the power to carve a better future."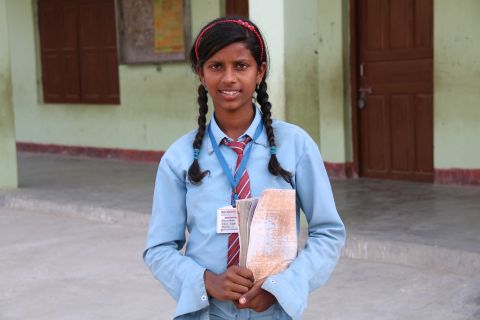 "It's my moral obligation. I must do it," she says in a confident tone.
She and her classmates are also excited that a new building is currently being built on the school premises. "We are happy we will have more classrooms. We can't wait for the construction to be complete," she says.
---
Featured image: