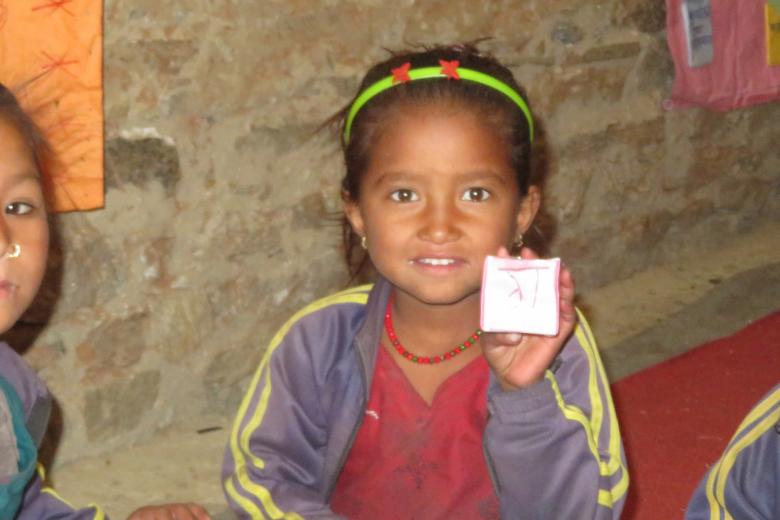 Boosting literacy, spreading happiness
Wednesday, January 23, 2019
Around 8% of school-going children in Nepal do not have sound knowledge of letters, according to a study conducted by USAID in 2014. These children are not able to identify basic letters when instructed by their teacher.
Learning in children works like the building blocks of a house; if not piled one by one, the result cannot be achieved. Similarly, a step-wise process is required if children are to learn the alphabets.
Nisha Bambudha teaches students of grade one at a community school in Jumla District. Her teaching style is quite different than that of other community school teachers in Nepal.
Nisha loves teaching her students through interactive activities- including play. At one of her classes, children are playing with paper-made cubes that have Nepalese alphabets written on each its faces. Upon Nisha's instruction, the children start rolling the cubes to land on the instructed alphabet, enhancing their ability to register alphabets and remember them better. Nisha says, "I'm motivated to change the conventional teaching modality after receiving teaching learning material training. This new modality is really good for me as the student enjoy to learn with my new teaching modality."
Sushant, one of Nisha's students proudly shows the cube, he identified the instructed alphabet on. After spending a few seconds looking for the alphabet by scrolling different cubes, he finally finds it and smiles happily.
His classmates, Karishma and Prashansa, also spend some time, rolling cubes and looking for the instructed alphabet. After approximately 30 seconds, they find the said alphabet and cannot contain their happiness as they display the identified cubes. Karishma says, "I feel happy in classroom becoming able to find the alphabet that my teacher asked for."
Deriving learning outcomes in children of rural Nepal is a challenging undertaking. Most rural community schools often have a critical scarcity of resources. Teachers do not have access to capacity building opportunities in order to develop new teaching modalities. Due to which, they are confined to conventional teaching skills. They rarely develop teaching materials for effective learning teaching process; as a result, the learning outcomes of children suffer.  
As per the new federal structure and legal framework, education is a mandate on the local administrative bodies. Because of this, regulating education services is in the hands of the local government representatives. This political change has generated a new hope for better education services to children.
World Vision's local partners coordinate with government agencies to instigate unlock literacy initiatives in Jumla district under Leverage Equal Access in Rural Nepal (LEARN) Project. Under the initiative, 38 teachers like Nisha from 15 schools of 3 local bodies have been equipped with the skill to develop teaching learning materials in 2018.
Written by Sunil Hakaju Shrestha, Public Engagement Specialist