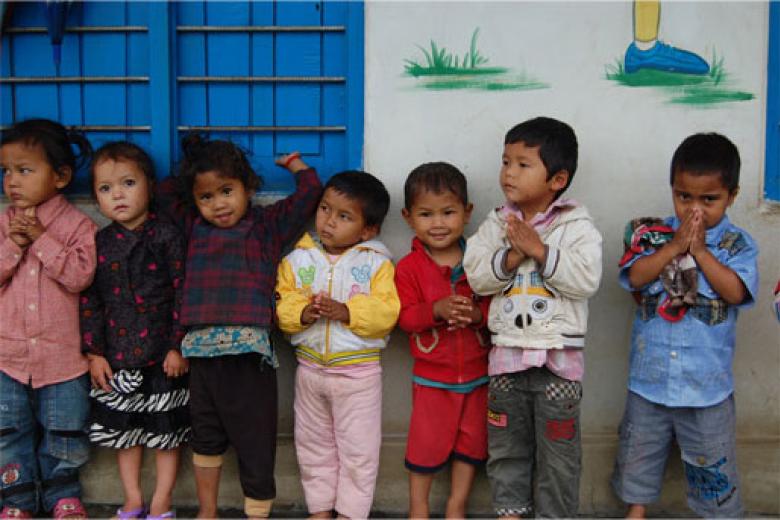 Centre helps raise healthier and smarter children
Wednesday, November 7, 2012
"I love to come to play, sing songs and play with the toy car," says four-year-old Mukesh with his shy smile as he looks at his friends.
Mukesh is one of the children who comes to Srijanshil Early Childhood Development (ECD) Centre in Kapur Gaon, Baglungpani-6, Lamjung. Like Mukesh, other children with ages 3-5 years old who also come.
The ECD has been very successful as parents realised its importance. Children get to eat nutritious food on time so they are healthy. As they learn many things, parents have time to work. Parents are very happy with the progress they see in their children.
Santa Maya Lama shares, "I leave my daughter Sushila here in the centre and go to collect food for cattle. I am very proud to see she learned a lot. This centre has been a gift for mothers like me as we can leave them the whole day while we do chores at home. Most importantly, they get to eat warm and healthy food on time."
"We can easily observe the children's progress. Apart from formal education they have learnt about cleanliness. They talk sweetly and with respect. They love coming here. My granddaughter is here and I know she is safe and is enjoying," says Narayan Bahadur Gurung, a member of the ECD management committee.
He continues to share, "I like it the most that after she is served food at home, she says thank you." At present the centre has 17 children and is on its eighth batch of students. People from other villages also send their children to this centre."
"The students who studied here got admission in other schools easily, even able to secure better positions. The teachers and parents said they noticed the difference – the children taught here are not shy and very confident. They have a brighter future," says Gita Gurung, ECD facilitator.
Bimala BK, 11, now studies in grade five and attended this ECD. She says, "My confidence is the result of my education in the ECD centre. I also feel proud that I got to learn so many things which my other friends didn't. I always felt good and enjoyed coming here, learning and playing."
World Vision has supported the centre in constructing of the building and toilet and providing educational materials, wall paintings, carpeting, snacks for the children and salary and training to the facilitators. The centre will be handed over to the community in FY 2013.
"Before, it was very difficult to convince parents to leave their children here but with the support of World Vision we have grown and we cannot imagine reaching here without World Vision's support. World Vision has shown it's the way towards development and we hope that we will be able to continue doing it in coming days," says Dirgha Man Gurung, president of the ECD committee.
World Vision's Global Week of Action for Child Health Now will be held from 13 to 20 November 2012. World Vision needs every leader to not only participate, but to influence staff to join the global mobilisation to call on world leaders to meet the commitments they have made to reduce child mortality and improve maternal health (Millennium Development Goals 4 and 5). Please say 'Count Me In – I want Children to Survive 5!' For more details on how to be involved in this campaign, please visit http://www.childhealthnow.org/.