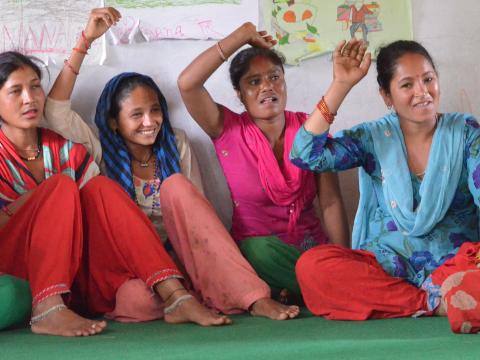 Community voice for a better school
Monday, July 10, 2017
A well-decorated Early Childhood Education and Development centre in Kailali district would generally attract a good number of children. But, it is a day off and 19 adults have gathered in the room, for a different reason. These 19 adults are parents and caretakers of the students attending the school and are being facilitated by a volunteer who is taking down their views on the facilities provided at the school. On a chart paper, the parents are being asked to rate a number of criteria's such as water facility in the school, playground space, etc on a scale of unsatisfactory to satisfactory indicated by smileys. 
In most parts of Nepal, there is a gap in the service delivery from service providers such as schools, health posts as mandated by the Government's policies and standards. Citizen Voice and Action (CVA) is a local level advocacy and social accountability approach that facilitates dialogue between communities and government in order to improve services like health care and education that impact the daily lives of children and their families.
CVA works by first informing citizens about their rights and then equipping them with a set of tools, designed to empower them to engage in local advocacy to protect and enforce those rights.  First, communities learn about basic human and child rights, and how these rights are expressed under local law.  Next, communities work collaboratively with government and service providers to compare reality against their government's own commitments.  Communities also have the opportunity to rate government performance against criteria that they themselves generate.  Finally, communities work with other stakeholders to influence decision-makers to improve services, using a simple set of advocacy tools. 
As government services improve, so does the well-being of children.
The activity that the parents are being involved in is just the second step of this whole approach, following which they are to sit with the school authorities and discuss on the conclusions drawn out from this session. 
While the parents are busy bringing out the issues and possible solutions to them, Bimala, a local volunteer is facilitating a separate session for the children. Most of these children are in the primary level and are enthusiastically putting forward their opinions as well as what they think could be done for those matters to improve. For instance, if the issue is 'teachers being absent too frequently', the students suggest that 'teachers should not take too many personal leaves'. Bimala is dutifully noting down all the points.
Along the process, it is not just the parents and students who benefit but the volunteers as well who have been trained about the concept of CVA and are more than happy to act as mediators. Bimala says, "It is sometimes difficult to get students to speak up as they are shy. But me, being a local facilitator whom they are already familiar with makes them feel a lot more comfortable and open up about their issues."
To begin a dialogue between service providers and service beneficiaries, World Vision introduced the CVA approach in 18 educational institutions and 7 health institutions of Kailali so far.