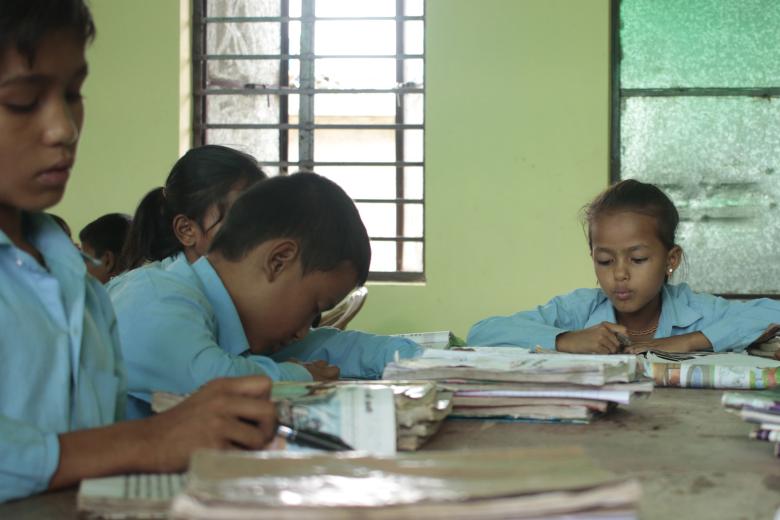 Emerging After Back-to-Back Disasters
Tuesday, November 20, 2018
A group of twelve girls and boys make their way to school, laughing and tugging at each other along the way. Patting her sister on the back is 9-year-old Januka. "Come on, walk faster, we might be late for class!" she says, as they race each other for a bit, stop, and giggle.
This joy has come to Januka and her friends after a long period of struggle. Until a few months ago they were unsure whether they would have a roof to study under.
Their school had borne the impact of two huge disasters. Firstly, the school building was completely destroyed during the devastating earthquakes of 2015. "The earthquake came on a Saturday which is a public holiday in Nepal. When we came to look at the school the next day, there was nothing left. It was painful to see," shares Maiya, a teacher at Januka's school. This incident compelled the school to run from temporary learning spaces made out of bamboo and iron sheets. "Due to insufficient space inside the bamboo shelters, we had to squeeze multiple grades inside the same room. Teachers had to speak over each other and classes were often quite chaotic," Maiya adds.
Struggling to run classes in the temporary space, no one had anticipated what would happen the following year. A fire broke out in the school compound that burnt down the temporary spaces, taking away the only hope the school was holding onto. "After the remnants of the school burnt down, I was unwilling to send my daughters to school. They had to study in an open space under unfavourable circumstances," recalls Netra Kumari, Januka's mother. 
These events had a detrimental impact on the lives of the children, including Januka's. "I was terrified after the earthquakes and couldn't sleep well. We somehow managed to study under the bamboo, even though it was hot and uncomfortable. Things were becoming normal and then the fire happened.  I was sad again," she shares.
Just when the community thought it was the end of the road, a promising avenue appeared. It was around this time that World Vision International Nepal initiated a project in Sindhuli under financial assistance of World Vision USA to ensure school safety and a good learning environment. Januka's school, Kalika Primary School, was one of the four schools identified in need of support and thus began a journey this village will never forget.
Construction began despite geographical challenges.  There was no road that connected the village with surrounding areas, making transportation of construction materials extremely difficult. To solve this issue, local government authorities were approached to allocate some budget to construct a road. With much persuasion a 2.8 kilometre road was constructed, finally making it possible to continue the construction work.
It was this year that the journey lead to its final destination. From September 2018, Januka and her friends started attending school in the new World Vision funded building. This was a historic moment for this small village in Sindhuli, putting an end to their long struggle for a favourable learning environment.
"I love my new school building as it is brightly coloured and resistant to earthquakes. Every morning I wake up with excitement, and come to school where I feel safe," says Januka. Her mother, Netra Kumari, is beside herself with joy following these changes. "I recently took part in the social audit of the school building construction and was thrilled to provide my positive feedback for the project. My daughters now have a safe space to study and love going to school. They eagerly ask us to get them ready instead of us having to push them to go to school!" she shares.
Following successful development programmes in Sindhuli, the construction of Kalika Primary School is an important milestone for World Vision and an excellent example of good coordination between the organisation and government authorities, as shared during the handover programme held at the school on 7 September 2018. World Vision will continue to work in Sindhuli to improve the quality of education and foster good learning practices.
Watch this video to learn more about this story