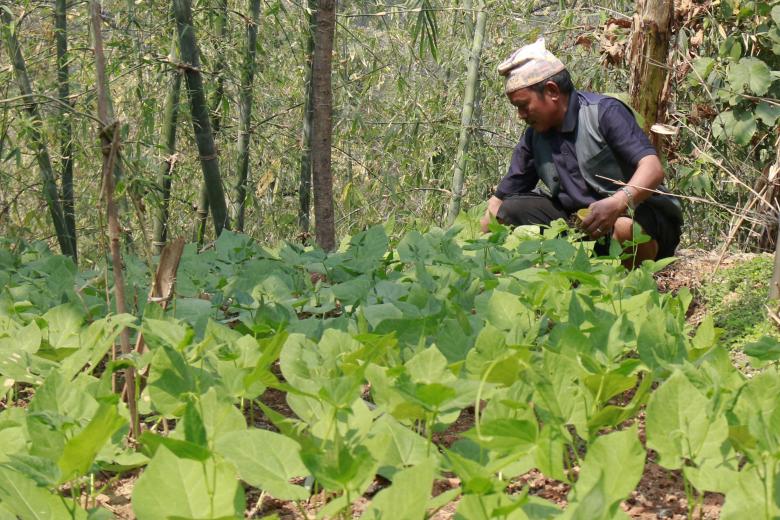 From fallow to farming
Monday, February 11, 2019
Up until two years ago, Nir Bahadur's farm was barren and empty.
The 54-year-old farmer from rural Udayapur district was hardly utilising his land, sowing only rice and maize every alternate year. His issue? Water. "Our village is located pretty far from the water source; hence it was difficult for us to fetch water even for drinking, let alone for any other purpose," recalls Nir Bahadur.
What Nir Bahadur is describing is a common issue in hilly villages of Nepal. According to the World Bank, only 28 percent of the total agricultural land in Nepal is irrigated. The major challenge lies in the hilly and mountainous regions where water sources are mostly inaccessible due to the rough topography.
With the construction of Dhangre Rajabas Irrigation Canal, living conditions for over 300 households in Rautamai Rural Municipality have improved dramatically. Community members, who had to travel far to work as labourers or to buy everything from the market, are now making a living right at home - harvesting paddy, maize and vegetables.
In mid 2017, after the canal became functional, Nir Bahadur himself harvested around 200 kilogrammes of peas that year. In addition, he also grows garlic, tomatoes, cauliflowers, etc and sells the surplus in nearby markets; as do other farmers in the village. Not just that, the villagers have easy access to water for other purposes as well, such as for drinking, bathing, washing, etc. 
"The irrigation canal has made it very convenient for us to irrigate our farms all year round. Before, our produce used to hardly sustain us for three months, but now we have enough food throughout the year. Not just that, we also sell vegetables at the local market. It has made a big difference in our lives," shares Nir Bahadur, who is also the head of the canal's user committee, consisting of seven members. After the canal was handed over to the community, it became the committee's responsibility to look after the maintenance of the canal.
The construction of the Dhangre Rajabas Irrigation Canal was carried out with the financial support of World Vision, and with technical support from Nepal Social Development and People Empowerment Centre, Udayapur. The local government agencies also contributed some amount during the construction period, and 61 individuals from 14 households provided labour support. 
The 81-metre long canal today irrigates around five hectares of land which had been lying barren until the canal came into operation in mid 2017.
"Our village was missing a link to the water source. Because of this everyone was suffering. The irrigation canal has not only made us self-sufficient, but our produce is reaching far places," beams Nir Bahadur.