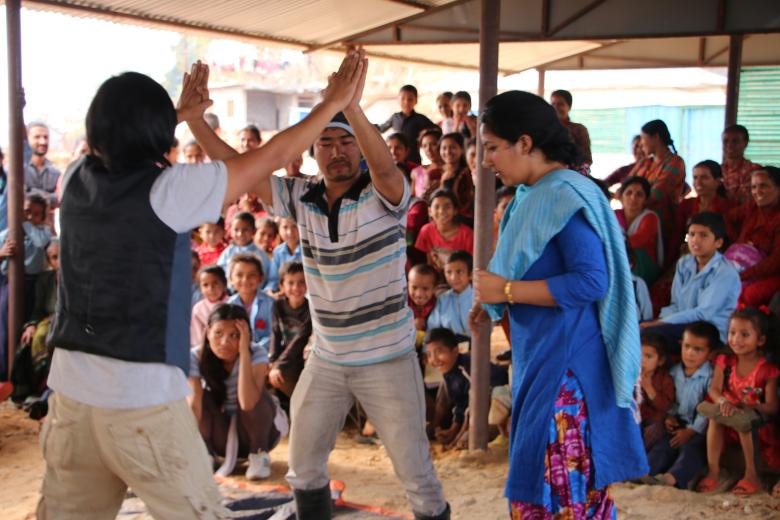 Harnessing theatre to build change
Thursday, April 21, 2016
The crowd erupted to laughter and cheers as the play ended. It is not everyday that you see a community theatre performance designed to share build back safer messages to people who are now reconstructing their homes. 
"I like the drama that was shown, I came to know that house construction can be made stronger even if it's made of mud and stone — digging deeper base, using pillars and tying iron wires with the walls will make the house strong and help withstand earthquakes," shares one aama (mother) who watched the play. 
World Vision in partnership with non-profit social enterprise organisation Build Change has been conducting theater performances which aims to raise awareness among earthquake-affected communities, educating people to make smarter choices and ensure that reconstructed homes are built to withstand future disasters. 
The initial leg of theatre performances in Sangachok Village Development Committee (VDC) have already reached 2,412 people including 950 children with plans to roll it out with wider audiences in other World Vision-assisted districts. The community play is being shown in different parts of the village to support the process of social preparation in areas where World Vision has shelter programmes. This serves as a good temperature check to find out how people are reacting to build back safer messages — 10 key messages formulated by the shelter cluster composed of different agencies including World Vision in coordination with the Government.

Noll Tufani, Build Change Country Director in Nepal shares, "Overall the play's message centres around putting attention to quality — making sure the housing reconstruction utilises good materials, good foundations and good connections. It's not a matter of how much money you throw in the house, it's about the quality of attention you give to construction safety and training."
Harnessing the power of community theatre, this shared experience among the audience from various walks of life in the community will hopefully reinforce understanding and social acceptance as shelter projects intensify in the coming weeks and months — fostering stronger community ties that will eventually help address pressing concerns surrounding Nepal's shelter reconstruction.
Partnering with World Vision, Build Change provides capacity building and technical support — training World Vision teams who are implementing shelter projects in the worst-hit districts in Nepal. 
Moreover, shelter beneficiaries will also get training on build back better techniques - master masons, community builders and home owners will get a chance to learn more on safe construction practices and enhance their building skills as communities head towards self recovery. In Bhimtar VDC, the first batch of trainees are now reconstructing the community centre. 
Simon Darke, World Vision's Shelter Infrastructure Manager for Nepal Emergency Response shares, "As we do more shelter activities in the recovery phase it is our desire to ensure that our staff and the communities we serve are well-equipped with the right skills and know-how, empowering stakeholders to build disaster resistant homes and community structures."
After a year, World Vision has supported the emergency, transition housing and shelter repair needs of at least 76,470 people.
By Aaron Aspi, NER Communications Officer