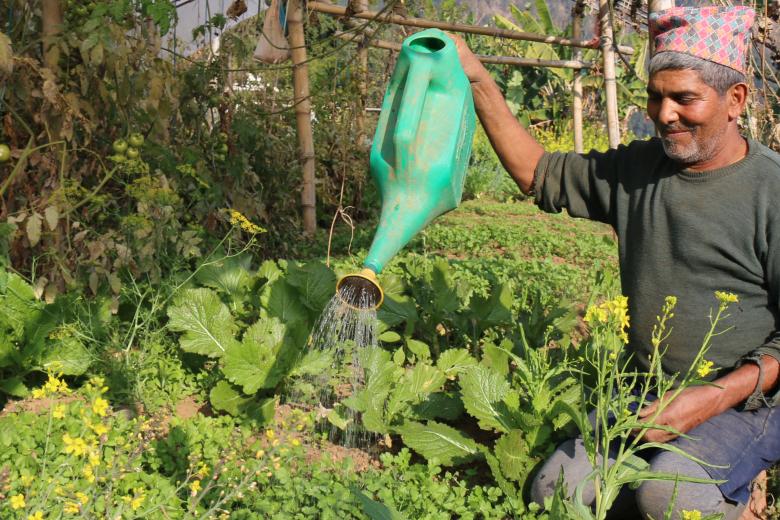 How Bir Bahadur went from being hungry to having enough
Friday, April 7, 2017
Many poor farmers are unable to grow enough food to feed their own families, much less sell it for additional income. That is why World Vision partners with communities not just to address immediate food needs — but also to help them grow food for the future.
Meet a farmer – Bir Bahadur from Lamjung, western region of Nepal. He is 60 but still as lively and energetic as ever. He remains modest despite his apparent success in commercial vegetable farming. He maintains that he is far from being successful although most people in his community consider him to be a role model.
His son passed away around ten years ago and he is now looking after his family of five. "My son lost his life in a road accident. I could not spend enough time with him. It was just not written in my destiny," he says with a heavy heart as he gazes at his tunnel farm filled with plump green tomatoes.
"I work hard all day in my vegetable farm so that my two grandsons can have a better future. My bones are getting old and farming is not easy. Often my joints ache terribly due to arthritis in the winter and sometimes the monkeys steal the vegetables but I never give up."
Bir Bahadur once used to be a poor farmer who did not have enough to eat which is why he went to the Middle East for a couple of years to earn money. But even after returning to Nepal he still struggled to manage household expenses until he tried his hand at vegetable farming. Now, he earns a decent income by selling his produce in the local market. He proudly shares, "I make up to 80,000 rupees ($800) a month and I save most of it for my grandsons' education."
Bir Bahadur's younger grandson Ashish (16) studies in class ten and he is a part of World Vision's Child Sponsorship Programme. He feels happy about his grandfather's success.
Pointing towards a large stack of ripe cauliflowers and tender cucumbers, Bir Bahadur says, "All this is the result of my hard work with support from World Vision. I have been provided agricultural inputs such as seeds, fertilisers, plastic tunnels, and caps, all complimented by commercial vegetable farming training which has really helped me a lot."
World Vision is committed to helping parents and guardians provide for their children by improving the productivity, sustainability, and resilience of small farms.