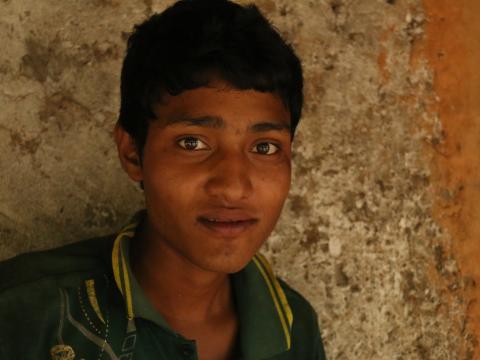 Kamal, advocating against child marriage
Friday, November 11, 2016
Grant project name: Child Protection System Building (CPSB) in Sunsari and Udayapur districts

Funded by: United Kingdom Department for International Development (DFID-PPA)

Project goal: Children and communities, especially the most vulnerable and those in the poorest or most fragile contexts, are cared for and protected.

Purpose: The project focuses on strengthening formal and informal systems from local to national level in child protection. The project also develops the resilience of the most vulnerable children and communities to abuse, neglect, exploitation and other forms of violence.
The project also develops the resilience of the most vulnerable children and communities to abuse, neglect, exploitation and other forms of violence.
To achieve these two objectives, the project emphasises capacity building of formal organisations, such as the Central Child Welfare Board, District Child Welfare Board, the Village Child Protection and Promotion sub-Committee, and the police.

The project also works in an informal context by providing training and orientation for children's clubs, mothers' groups and helpline operatives, as well as other NGOs, community-based organisations, teachers, health workers and communities.
In addition, the project provides training and orientation to children on life skills, child protection and child rights to increase their resilience to abuse, neglect and violence in their communities. Partnerships with private sector organisations, such as the Federation of Nepalese Chambers of Commerce and Industry, media companies and hotels have helped raise awareness of child protection.

The project covers 13 Village Development Committees in Sunsari and Udayapur districts in Nepal and is being implemented in partnership with District Child Welfare Boards at the district level and Village Child Protection and Promotion Committees at the community level.
If Kamal had the chance of reliving his past, he would like to do some things differently.
Kamal was just 16 when he fell in love and eloped with Rita who had just turned 18. A year after the union, Rita suffered from complications in her pregnancy. She was rushed to Dharan, a city around 200 kms further east from Udayapur, where they are originally from but unfortunately suffered a miscarriage. The incident was an eye-opener to the whole family and even to people in their community. "I made a bad decision causing not just me but my whole family to suffer. We were too young to have gotten married. I wouldn't have done it if I I'd known better," he says. 
Rita has her regrets too, which is clearly evident as she says, "If I had not gotten married early, I would be enjoying life with my friends who are still single and carefree. Also, I have learnt that teenage girls do not have fully developed wombs, increasing their risk of facing complications during pregnancy, like I did. I will never be able to forget how terrible the pain was and how scared I was."
Kamal's parents also agree that child marriage is very unwise.
After learning the hard way, Kamal got the chance to attend a training conducted in his village by World Vision on child protection where he could relate to the potentially bad consequences of child marriage. He then started advocating against child marriage and since then has been advising people in his community not to repeat his mistake. Binu Subedi, a Village Child Protection and Promotion Committee member who was there with Kamal and his family during their difficult time is happy to see that Kamal is using what he's learnt to discourage child marriage.
Early this year, Kamal took part in an inter-generational dialogue between adolescent representatives and district-level stakeholders organised by World Vision and supported by the UK Government. In March, along with three other adolescent representatives he was chosen to represent Udayapur district at the Nepal Girl Summit. There he had the opportunity to meet adolescents from other parts of the country who had been advocating against child marriage in their own districts and witnessed commitments made by key national stakeholders to end child marriage. Kamal has himself made a commitment to help however he can.
Last month, four years after the miscarriage, Rita gave birth to a healthy boy. The family is overjoyed that everything went smoothly this time. "I hope for a better future for our son. We are still learning how to take care of him," says Rita shyly.