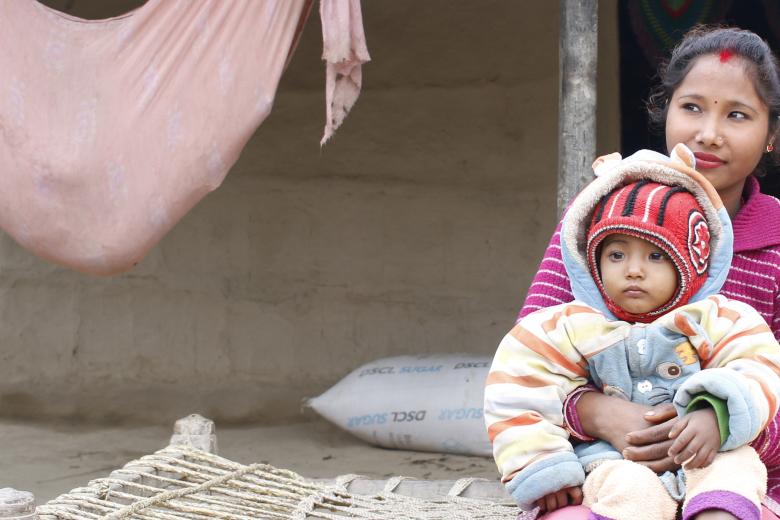 Learning nutrition the tough way
Tuesday, March 5, 2019
As Yogesh's wailing grew at night, 21-year-old Mamta was convinced her neighbours were correct, that some evil energy had caused her son to suffer from 'Runche' (cry baby) syndrome. In a desperate attempt to curb this, she visited a traditional healer the following day. A 'jantar' (a herbal pendant coated with copper and blessed by the traditional healer) was put around Yogesh's neck, which calmed him for about a week. But soon enough, his crying was back.
That was in April. Prior to this, Mamta had tried taking her second son, Yogesh, to various clinics who failed to diagnose his symptoms. The symptoms, which included weakness and limbs so thin that he couldn't even stand up, made Mamta worried sick. Being weak herself, she wasn't able to breastfeed Yogesh. She feared that she would lose her son.
What Mamta did not know was that her son was severely acutely malnourished, something she found out during a healthy baby competition organised in her community by World Vision's partner organisation, Welfare Association for Children (WAC) Tikapur. Healthy baby competitions are an effective approach to regular growth monitoring, where the parents of children who are found the healthiest are awarded, and the parents of children who are identified with Moderate Acute Malnutrition (MAM) and Severe Acute Malnutrition (SAM) are supported with counselling and the children referred for nutritional rehabilitation.
Naturally, Yogesh's family was distraught upon learning that he was suffering from SAM. At 13 months, he only weighed six kilogram's and fell on the 'red' part of the Mid-Upper Arm Circumference (MUAC) scale.
Soon after, Yogesh was taken to a nearby nutrition rehabilitation centre where he underwent intense treatment for a month. "They fed him fruits, pulses, vegetables, meat and eggs every day. He was also given a kind of liquid medicine. They monitored him day in and day out," recalls Mamta.
By the end of a month, Yogesh had gained two kilogrammes and had moved to the 'yellow' part of the MUAC scale. Mamta had herself gained some weight and was feeling better. But, although Yogesh was out of the danger zone, his health was still at risk of slipping back to SAM if not taken care of.
Hence, after returning from the nutritional rehabilitation centre, Yogesh was enrolled into a Positive Deviance (PD) Hearth programme, a well-established community-based rehabilitation and behavioural change intervention for families with underweight children under two years. Mamta learnt how to prepare nutritious meals for her children with available local resources and fed them to Yogesh for 12 days.
Following this support, not only was Yogesh able to stand up, but he even started to walk. "I am so relieved to see my son healthy and contently eating food. I have learnt a lot of things at the PD Hearth session and the rehabilitation centre and am amazed that with just a few changes at home, I can ensure that he is well-nourished. I will continue to practice what I learnt at home," shares Mamta. "If it was not for the healthy baby competition, I might not have known the nutrition status of my son and would've never taken him to the rehabilitation centre. I might have lost my son. Thanks to the programme, I got him back," she adds.
Mamta is confident she can take good care of her sons, Tipesh (5) and Yogesh (20 months), with her supportive family. Her mother-in-law, is a part of a health support group, formed in the community as a part of World Vision's health programme. Like its name, a health support group includes family members, other than mothers, who play an important role in a child's nutrition status. They receive orientation and counselling on how to be better care-givers and/or provide better support to mothers.
Yogesh is one of the 3,250 new babies whose growth was monitored through World Vision's healthy baby competitions this year.