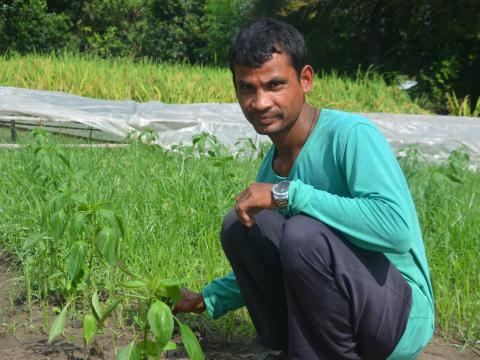 Livelihood opportunities fulfilling wishes
Friday, October 14, 2016
Project name: Preparing Poor Producer for Market (3PM)
Funded by: World Vision Hong Kong (Private Non-Sponsorship funding)
Goal: Increase economic capacity of poor producers to provide well for their children in Kailali District
Project duration: April 2014-March 2017
To equip traditional farmers with commercialised farming methods and thus having better reach to the local market, the 3PM project has been implemented in six municipalities and six Village Development Committees of Kailali district. The intervention provided guidance for increased economic capacity of poor producer groups.
The initial 18 months was more focused on preparatory work: building capacity of producers' groups on production skill and knowledge, and the following 12 months had been more focused on marketing and building relationship between the market actors and service providers. A lot of changes have been observed in production, marketing and producer-market agent relationship. As of now, 50 producer groups out of 89 groups that were formed through the project have become commercial and 37 of them have become semi-commercial. Additionally, six collection centres have been set up throughout the district. Market literacy class, which is a new intervention for producers, was conducted in 31 producer groups; 748 producers have become generally literate on marketing and informal education from the classes. As a result, vegetable production has increased by 90%, vegetable sale has increased by 66%, average gross revenue from vegetable sales has increased by 78% as well.  The project has been working for the market promotion of the producers due to which 42 mini trucks of vegetables have been delivered out of Kailali district in the project duration.
The major achievement of the project has been being able to reach 2027 traditional farmers with skills required to fulfil the needs of the local market. Farmers, who once used to produce merely a few kilogrammes of produce now have an increased yield and regularly supply to the market. Moreover, functioning in groups have made them better in taking up leadership roles and being more organised that is evident through the record-keeping and division of work within the groups. 
A farmer in Kailali had a simple wish: he wanted a motorcycle.
Until three years ago, Shiv Prasad Chaudhary had no idea that there was a market for vegetable produce. Like other farmers in rural Kailali, he was engaged in traditional farming producing 1-2 kilograms of vegetables at a time that would only be enough for his small family of four. When he first heard about the 3PM (Preparing Poor Producers for Market) project from World Vision, thinking that this project was about turning traditional farmers into commercial farmers, he was uncertain how that would be possible. A few months after that, he had the opportunity to attend a training where he learnt how to maintain a nursery, how to grow off-season vegetables, and was introduced to the market where he found he had a lot to offer.
On the rare occasions when his produce amounted to more than 2 kilograms Shiv would try to sell it through the popular method on the plains known as "chitua", a traditionally hand-woven basket that is carried on one's head. Since he so seldom sold produce, Shiv used to be terribly shy and would only sell vegetables to customers who would show curiosity in his basket, instead of offering it himself. When a person this shy was introduced to marketers and agents, it was overwhelming.
"I did not even know what to say at first," says Shiv. On top of that, being challenged to produce at least ten quintals of vegetables was daunting." He says, "All of us were scared when we were told that, but gradually with the support of World Vision, it has been possible."
With continual visits to the market to analyse trends and prices, Shiv's confidence increased, little by little. He gradually began to supply regularly to the market because his production had increased and before he knew it, Shiv was tending a vegetable farm measuring 36,500 sq.ft. He now produces at least 60-65 quintals of vegetables in a season and has 12 market sellers that he supplies regularly.
With his increased production, Shiv had a steady income and started saving up to NRs 2,00,000 per annum. With his savings, earlier this year Shiv was finally able to buy a motorcycle. As he runs his hands over his prized possession, a blue shiny Hero Super Splendor, he is unable to hide his joy and says, "I never thought I would be able to buy a motorcycle by selling a few kilos of vegetables and now when it is in front of my eyes, I am overjoyed. My wish was fulfilled because of vegetable farming."
Shiv's wishes do not stop at that, with the savings he continues to make, he plans to renovate his house and invest in his children's education.
From the time spent talking to Shiv, it is evident that he is passionate about being a producer and wants to educate others like him about the market. He says he is also encouraging the youth of his community to toil at home rather than scampering abroad.
"I want others to know that it is not necessary to go abroad to earn well. To me, the best thing about being an independent producer is being able to be run by passion rather than rules and regulations. I am the master of my own future," he says.