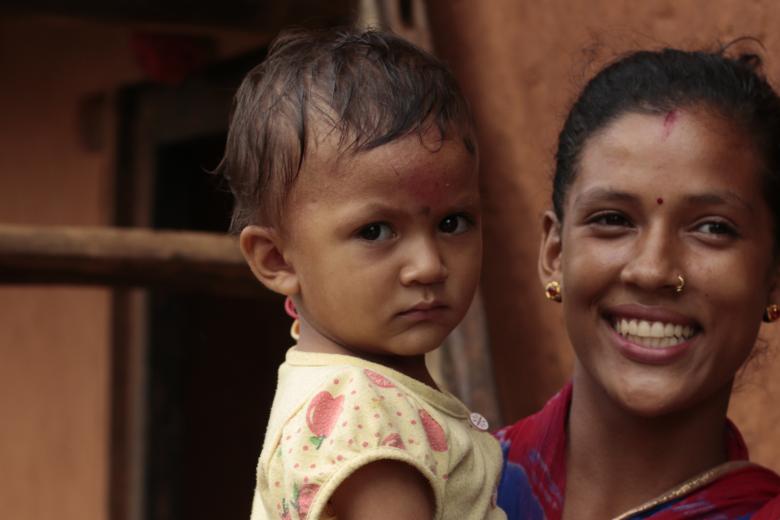 For the love of a child
Friday, December 28, 2018
In an empty school compound in rural Sindhuli district, women gather around a lady clad in a blue sari. The lady is monitoring the growth status of all children present there.
Everybody in Nepal knows that women who wear blue saris, as this lady is, are 'Volunteer didis', formally referred to as Female Community Health Volunteers (FCHV). FCHVs are the bottom-rung, the community grassroots element, of the healthcare system in Nepal.  They act as the eyes and the ears of the government-led health programmes in the communities. In this village in Sindhuli, 51-year-old Bhagwati has been playing this role for the past thirty years.
When it is two-year-old Roshni's turn to be monitored, Sushmita, her mother, crouches beside her curiously. "She weighs 11 kilogrammes now, a significant improvement from when she first arrived," states Bhagwati. Sushmita nods in agreement and smiles. 
Bhagwati is referring to the time when Sushmita had brought her daughter to a mother's group meeting for the first time. "Roshni was underweight with thin arms. It was so difficult to feed her as she would become irritated and complained all the time while eating," recalls Sushmita. "Bhagwati didi asked me to attend a mother's group meeting several times. I was not sure how it would help but one day I finally decided to go and it was one of the best decisions I have made so far." 
During the meeting Sushmita's worst fear was confirmed. Roshni was found to be malnourished through a Mid-Upper Arm Circumference (MUAC) measurement along with height and weight evaluation. At 14 months, she weighed only 8.5 kilogrammes and was on the yellow section of the MUAC scale.
Soon after this discovery, a Positive Deviance (PD) Hearth session was organised in Sushmita's community. Sushmita took part along with other mothers of malnourished children and learnt how to prepare nutritious food, while taking turns to feed their respective children. Sushmita was taught to cajole her daughter while feeding by singing songs. She was taught to pay close attention to hygiene practices: washing hands before every meal, and ensuring Roshni is cleaned up every now and then.
Within 12 days, Roshni's condition began to improve. Her weight began to climb, her mood began to lighten, and she fell sick less often. After the PD Hearth sessions, Sushmita was supported with agricultural inputs like seeds, fertilisers, tools, etc to maintain a kitchen garden in her backyard. She has been growing vegetables in the vicinity of her house and uses them to make porridge and gruel high in nutrients.
"It has been a year since and my daughter has gained 2.5 kilogrammes. Meal times are much more relaxing now as she eats without me having to exert any force. I can finally take a sigh of relief," beams Sushmita. 
Healthcare in Nepal is still unevenly distributed. According to Nepal Demographic Health Survey, 2006, only 78.83% of the total population have access to essential healthcare services. This indicates sophisticated healthcare services are more focused on major cities, making the role played by FCHVs crucial in order to sustain healthcare in more rural areas.
However, most FCHVs do not receive adequate technical support and hence are not motivated to work to their full potential. To help bridge this gap, last year World Vision's local partner NGOs reached out to 491 FCHVs with technical training on health and nutrition. FCHVs are also supported with a minimal stipend to run mother group meetings, door-to-door visits, and other relevant programmes.

"The last time I took a training was a long time ago. Most of the practices and knowledge I got then is outdated, but I had to rely on them. I would run mother group meetings in an old-fashioned manner, and the mothers would get distracted easily due to the babies present. Much has changed after I received training, where we were taught about engaging methods of teaching using flipcharts and interactive illustrations. Mother groups were reformed after the training and we were provided with tarpaulins and growth monitoring equipment. Meetings nowadays are much more productive and I feel like I'm making more difference through my role," shares Bhagwati. "Due to these changes, there is increased positive concern from mothers towards their children's health. We also organise PD Hearth sessions to rehabilitate identified malnourished children. Over the course of a year, malnutrition rates have gone down in our village to certain extent," she adds.
This support has slowly resulted in community members having a positive attitude towards child nurture and care. The results are evident from the improved nutrition status of children like Roshni.
"My child is healthy now and I am thrilled to know that she is well nourished. Mothers like me couldn't ask for more," beams Sushmita.
Watch this video to know more about Roshni's story