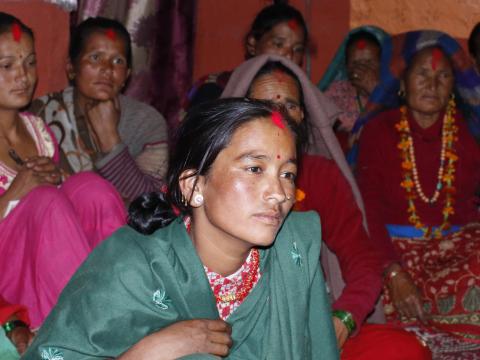 Market literacy classes for female farmers
Wednesday, November 14, 2018
At what age did you first learn the alphabets?  Maybe three, four or five?
Nayana from Jumla district is currently learning the alphabets at the age of 55. "It's never too late," she says with a bright smile.
Born and brought in Jumla, one of the poorest and under-developed districts of Nepal, she never got an opportunity to go to school. As illiterate farmers her parents never encouraged her to study and her childhood was spent doing household chores and helping her parents.
Illiteracy is a major problem in Jumla. According to National Population and Housing Census, 2011, the literacy rate in Jumla is only 54.66% and as per Nepal Human Development Report, 2014 of National Planning Commission Jumla has one of the lowest Human Development Index values.
"I am a member of Chapukhola beans production group and few months ago, I heard about an opportunity to participate in a market literacy class through this group. Needless to say, I quickly expressed interest," Nayana says enthusiastically. "This has given me double benefit. Firstly, illiterate people like me have an opportunity to get some basic education and learn Nepali, English alphabets and mathematics. Secondly, small-holder farmers like me get to learn about identifying and analyzing market opportunities, improving our products to meet customer demands and building relationships with buyers and suppliers."
Market literacy classes normally last for three months but for people like Nayana, who have never been to school, facilitators begin with basic literacy classes which adds one more month to the market literacy class cycle.
"I am enjoying the process of learning. A grandmother like me did not even know about ka, kha, ga, gha (Nepali alphabets) let alone a, b, c, d but now I am gradually learning. After finishing the basic literacy classes I hope to be able to read and write to some extent and do basic calculations so that no one will be able to cheat me in the market while I sell my beans and other vegetables," she says.
Sunita, head of the group and facilitator for market literacy class, says, "There are 22 female members in this Chapukhola beans production group and two-third of them have never stepped inside a school premise. For such marginalised women who have never even ventured outside their village this is a great opportunity to attend market literacy classes and learn about collectively marketing products, producing effectively for the market by organizing production and improving market knowledge.  I'm sure the lessons shared here will lead these women to financial empowerment and independence. We are hopeful."
So far, World Vision has supported 92 market literacy classes in five districts of Nepal benefitting more than 2,000 farmers.
Change begins here.