Simran's village, nestled between lush terraced mountains and surrounded by decade-old trees is a construction site. Houses, even mansions are built from the ground, its metal structures reaching up into the sky. The village's streets have turned red, as fresh brick has been deposited all around. Nepal's people are keeping busy as the rebuilt the lives they lost two years ago.
The earthquake is still present in people's minds, but the attitude has shifted.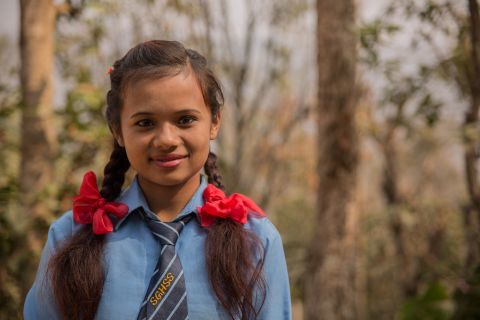 "I sat in the house when I heard the sound," says 16-year old Simran. "I was scared, grabbed my mother's hand and ran outside the house, just before it collapsed completely. I was screaming and crying then." Simran, in her blue school uniform smiles. "Today things are different," she adds.
Nepal has come a long way since a 7.8 magnitude earthquake left the country destroyed. While a lot of work still needs to be done, people have started to look ahead. "We don't think about the earthquake like we used to anymore," Simran says. In the past year, she has become chairperson of her municipality's child club network, where she is fighting to make the voices of children heard.
"World Vision came to our village after the earthquake and that's when the child club started," she explains. "Many children were trafficked then and started working, but with World Vision's help, we are now managing to keep our community safe and our children protected."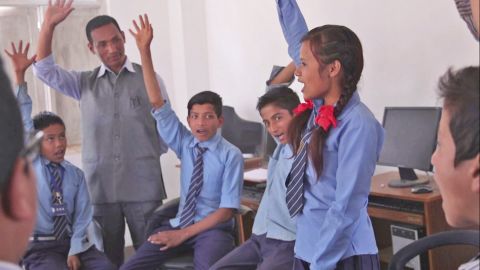 For the past two years, Simran's child club has been meeting regularly and has celebrated success all around. "We recently prevented a marriage of a 16-year-old girl and we always make sure that children are not forced into labour, but go to school instead."
Twelve-year-old Manish was one of the boys you benefitted from the child club's intervention. Having lost their house during the earthquake, the family decided to send him to work in a hotel. "He worked there for two years, supporting his family financially," Simran explains. "When we finally found him, we managed to get him a scholarship and he started attending classes again. He is still in school now and also part of our child club."
With support from World Vision and its partner NGO she and other members of her child club received trainings on child rights, life skills and capacity building. "The trainings have transformed me into a more knowledgable person. I am motivated to become a social worker to work for the betterment of children in my community," she says.
With the beginning of World Vision's work in Simran's village, families started to recognise children's importance. "People care about us now and they know that we are the future of our country," she smiles.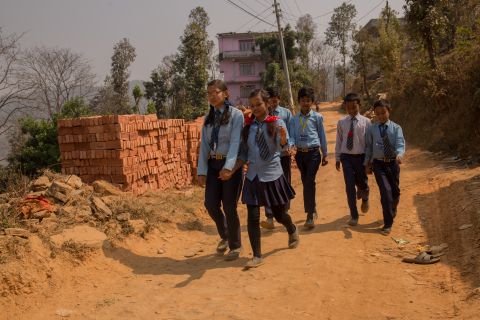 There are still struggles of course. It's difficult for some families to raise enough funds to rebuild their houses and the occasional temporary shelter is still seen between the many construction sites. What has changed is the people's mindset. "We are no longer afraid," the child club members shout out, and that attitude resonated throughout the country. Nepal's resilient nation is moving past fear and on to a better future.
Written by Stefanie Glinski
Learn more about World Vision's work through this video.
---
Featured image: